Google beckoned to press and analysts to join "Breakfast with Sundar Pichai" on July 24, but did not offer a further explanation. Pichai is Google's Senior Vice President responsible for Chrome and Android, so the topic must be important. Google intrigues the press and public alike by keeping secrets until the last second.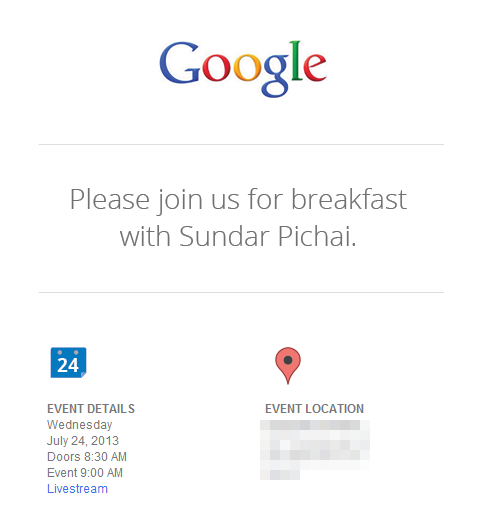 The invitees would like to know more, but Google doesn't need to tell them to have a strong turnout. But the absence of a topic fuels speculation. The top candidates are:
An announcement of the next release of Android Jelly Bean 4.3
Announcement of the next major release of Android 5.0, Key Lime Pie
An announcement of the Motorola X smartphone
An updated Nexus 7 tablet
The next release of Jelly Bean 4.3 is an important, but only incremental, update. According to Android Central, Android 4.3 will include improvements in power management for Wi-Fi-based location services, low-power Bluetooth features, an improved camera app, and access to notifications from third-party apps.
Android 4.3 features will provide enhancements that will create new types of apps, but Google does not need Pichai at its launch. Google doesn't need big events to get results. Remember the cancelled high-profile Google Nexus announcement in New York due to Hurricane Sandy last October. Despite the cancellation, the Nexus 4 sold out on Google Play within two weeks of the announcement. With momentum like this, Google doesn't need help getting traction for Jelly Bean 4.3.
An announcement about Android 5, Key Lime Pie, is even less likely. It's been rumored to be due this fall. A major release would not come out this close to the incremental release of Android 4.3, which appears imminent based on the accounts of test units and references by Google's partners.
The Motorola X will be released soon, based on Google's 2nd Quarter 2013 Earning's Conference Call, during which Google CEO Larry Page said:
"I know you're all eagerly anticipating what Motorola is launching soon. Having been a tester for a while, I'm really excited."
Page's comments are a strong indicator that we will see this new device soon, and perhaps on July 24. In the same call, Google CFO Patrick Pichette set the timeframe for such an announcement to be "weeks."
If that is the case, then we're less likely to see any information about Android 5. Google needs to maintain harmony among its many hardware OEMs. In the past, it has done this by giving the newest Android release to one of its OEMs to debut with a flagship device. For instance, Android 4 was released first on the Samsung Galaxy Nexus. If Google were to launch a major Motorola X marketing campaign and covet Android 5 for itself, it could damage some important OEM partnerships.
Another good bet is an update to the Nexus 7, with more memory, a faster processor, and a front-facing camera, as reported by Android Central.
That narrows it down to the Nexus 7 and Motorola X as the two most likely announcements at the event. It seems most likely that it will be a Nexus device, probably the rumored Nexus 7 update, because it would be a heavily Google-branded partnership event, with Asus appropriate given Pichai's attendance.
Motorola, of course, operates as an independent entity, and therefore would likely make any major announcements on its own.