Some time ago I developed a Web site for some friends who are involved in the organization and support of local Community Emergency Response Teams (CERTs) programs and I found the whole idea of CERT fascinating and not a little sobering.
The idea behind CERT is that if there's a real emergency such as an earthquake or a wildfire (both of which are highly likely scenarios here in California) the greater the scale of the disaster the less likely it will be that official first responders such as fire and police services will be available. This is particularly true in more rural areas where the possibility of becoming isolated for days or even weeks is even greater than in towns and cities.
So, the goal of CERT is to teach citizens how to provide medical, firefighting, and other crucial services until the federal, state, or local authorities can swing into action. This could be thought of as an offline version of crowdsourcing.
Now, one of the most important aspects of dealing with a disaster is not only knowing where the problems are but also knowing how big the problem is and the cell network, assuming it stays up or can be revived, provides a powerful way to coordinate help and gather intelligence.
The Federal Emergency Management Agency (FEMA) released a free app for Android last August followed by iOS and Blackberry versions that provide lots of details and advice on emergency preparedness (impressively the app has a rating on iTunes of 4.5 out of 5 for both the current version and all previous versions and a 4.1 out of 5 in the Google Play store). 
The FEMA app on iOS
Now, almost a year later, the agency has added a new feature: A crowdsourced information gathering option called "Disaster Reporter" (the Android version is already out and the iOS update is due soon). Disaster Reporter lets citizens take geo-tagged photos, add text descriptions, and send them to FEMA where they will be reviewed by staff and then posted to a map on a FEMA web site.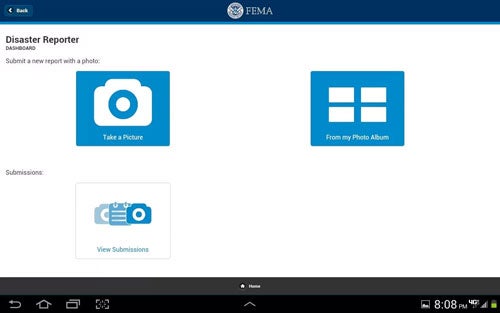 The new FEMA app's Disaster Reporter on an Android talet.
This is a great idea although I suspect that FEMA staff could be easily overwhelmed by the input from thousands of people in the event of a widespread catastrophe such as a hurricane. I'd like to see FEMA develop a citizen network to validate and handle what I think will be (if you'll excuse the awful pun) a tsunami of input.
This is, however, a great idea and I wish it had been around a few years ago when we had major wildfires out this way because finding out where the (literally) hot  areas were was really difficult. 
When the next disaster comes as it surely will, it will be fascinating to see how smoothly crowdsourced intelligence gathering works and what impact it makes on recovery.