A local Massachusetts newspaper is reporting that someone stole an iPad from a car earlier this month and an iPod not belonging to the car owner was left behind.
The iPod was turned over to police in Wellesley, Mass., though no iPod has been reported missing.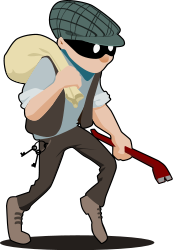 This suburban town has had a number of iPhone and iPad thefts in recent years, including from a Middle School by a custodian.
[MORE MOBILE:  Death in China prompts Apple to offer iPhone charger disposal and discount]
Of course, smartphone and tablet thievery isn't exclusive to this town, with gadget crime reports rampant across the courntry, particularly in urban areas. In fact, earlier this year it was reported that Apple was working with New York City police to try to stem thefts of its products, often involving violent crimes.
Last year I rounded up a bunch of the more scary and gruesome crimes involving iPhone and iPad thefts.
Vendors, including Google recently with its Android Device Manager, are responding to the need to protect expensive wireless gear with new tools.