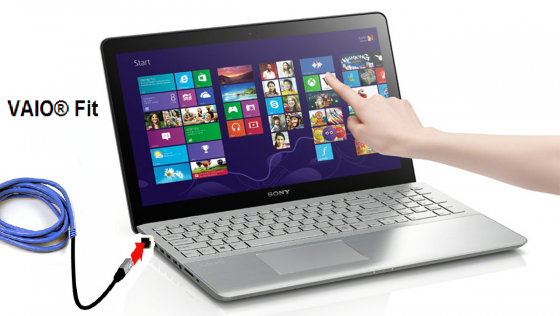 As readers of my blog are aware I purchased a Sony FIT 14 laptop a few months back.  Overall the machine is a beauty. From its attractive brushed aluminum case, snappy touchscreen, down to its CORE i7 CPU, it is a high quality product. What you would expect from Sony.  So why did they cheap out with a sub-standard Broadcom combo Wi-Fi/Bluetooth card? 
I realized the Wi-Fi reception on the machine was sub-par just a short time after first buying it.  I was not able to pick up my 5 GHz network in my house. When I called Sony I was told that the Wi-Fi card in the machine was not capable of connecting to those types of networks.  That should have been my first clue.
Over the next few weeks I realized that once I moved out from the room my wireless access point was in my Wi-Fi reception on the machine kept getting worse and worse.  I tried it with another computer, my cell phones and tablets and didn't experience anything like the degradation of signal that I did with my Sony.  I bought a new AC wireless router thinking maybe that was it, but it really didn't change much at all. 
Not only was I getting a weak signal, but I was also dropping the connection pretty frequently.  When I was connected it was crawling. I ran speedtest.net and was appalled that my 50 mbps internet connection to the house was delivering about 3 to 5 mbps to my laptop.  All of the other machines in the house were working fine though.
I Googled for the problem and found a lively thread on Sony's own community support forum. It seems I am not the only one with this problem.  It seems to be very common in every model that uses this particular Broadcom card from around the world.  In fact that were 16+ pages of complaints and comments from users about this problem.
Mixed into the comments were several requests from moderators of the forum asking users to document what model number, drivers, etc. they were using. After reading a few dozen of these it was quite obvious they were all using the Broadcom card and the latest drivers.  I am not engineering wizard, but it seems pretty easy to diagnose this one!  But ludicrously not a peep from Sony about fixing or even acknowledging the issue. Day after day, week after week, month after month the comments pile on and no response from Sony.
Finally some of the users on the forum started to take things into their own hands.  They started installing off the shelf Wi-Fi cards into the Sony FIT laptops. What do you think happened?  Of course, the Wi-Fi performance leapt up to where you would expect it to be. 
I wanted to see for myself. I took a Netgear USB Wi-Fi card that I had around the house and plugged it in. I was on the other side of my house from the wireless router.  Without the netgear card I was connected at a 5.5 mbps connection to the network and my speedtest was showing about 2mbps download (uploading was faster at about 5 mbps).  Once I plugged in my netgear card my connection was on fire.  Running speedtest.net I was hitting 49.xx mbps consistently on the download and 9.xx on the upload.  That was what it should be!
Now of course this means I need to take up one of the two USB slots with my Wi-Fi card. That is a pain.  Some of the readers on the forum have opted to install a $22 Intel wireless card into the machine and that supposedly gives you similar performance without using a valuable USB slot. Of course you need to open your machine to do this; you may want to bring it into a professional to do that.
In any event it seems pretty straight forward that the Broadcom card is the culprit here.  I am bothered on two fronts with this set of facts though:
Why did Sony cut corners on such an otherwise quality machine? Did they test this out and not come up with the same results as everyone else? Even the no 5 GHz support should have been a red flag. How much could it have cost to put a better card in here?
Do they even bother monitoring their own community forums? How can they let this thread drag on and on with customers disparaging the company and product and not do anything?  Is anyone at Sony even watching this?  Maybe they need a Get Satisfaction kind of system to improve customer support?  What they have now doesn't seem to be working.
In the meantime I am using my netgear Wi-Fi adapter and getting the performance I should.  This whole experience has me doubting if I will ever buy a Sony VAIO again though.