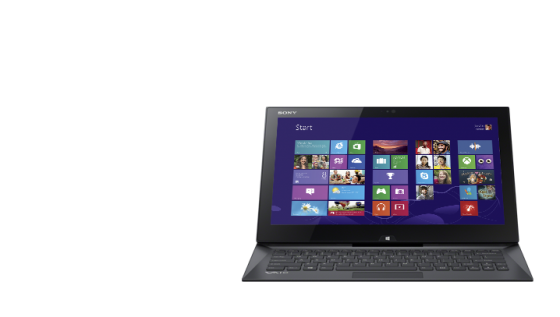 In my never-ending quest for the ultimate technology tools, I am going in a new direction. After playing with an early iPad before turning to my beloved HP Touchpad for my tablet needs, it looks like my next tablet is going to run Windows. Even more surprising, the same machine will double as my next laptop too!
After writing earlier this week that while I love my Sony VAIO Fit 14 overall - the Wi-Fi issues were killing me - I went out and traded it in for another VAIO. This one is a Sony VAIO Duo machine. It is substantially more money, so if it has WI-Fi issues too, so help me!
Actually, many of the things I like about my FIT are in the DUO as well. Here is the spec list:
Display
Screen Size : 13.3"
Resolution : 1920 x 1080
Touch Technology : Capacitive Touchscreen
Display Technology : Full HD, Triluminos Display for Mobile, Digitizer Support
Backlight Technology : LED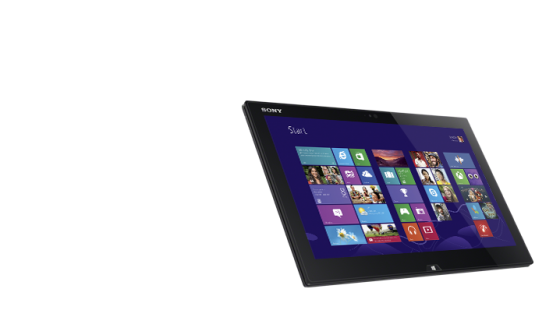 Storage
Storage Type : Serial ATA Solid State Drive
Storage Capacity : 512GB4
Inputs and Outputs
DC-In : 1
USB 3.0 : 1 + 1 (Charge)
Headphone Output : 1
HDMI® Output(s) : 1
Headphone Output + Microphone Input : 1
Memory Stick + Secure Digital : 1
Weights and Measurements
Dimensions (Approx.) : 13.00" (W) x 0.77" (H) x 8.27" (D)
Weight (Approx.) : 2.93 lbs. (with Internal Battery)
Processor
Processor Type : Intel® CoreTM i7-4650U
Processor Technology : Dual Core
Processor Cache : 4MB
Memory
Installed Memory : 8GB (8GB x 1)
Memory Type/Speed : LPDDR3/1600MHz
Max. Memory : Fixed
Hardware
Camera : Front 2.0 MP Full HD Web Camera powered by Exmor R® for PC and Rear 8.0 MP Camera powered by Exmor RS® for PC and microphone
Keyboard : QWERTY, 83 keys with 1.0mm stroke and 19.05mm pitch
Backlit Keyboard : Yes
Wireless/Networking
Bluetooth® Technology : Bluetooth Standard (4.0 + HS)
Wi-Fi® Adapter : Broadcom® BCM43241 (802.11a/b/g/n)
WiDi Ready : Yes - Intel® Wireless Display Technology9
Mobile Broadband : AT&T Wireless LTE Mobile Broadband Built-In (Wireless service sold separately)
NFC : Yes
General
Security : Intel® Identity Protection Technology, Intel® Anti-Theft Technology14
Action Buttons : ASSIST, Windows
Pointing Device : Clickable Touchpad (Gesture Supported)
Software
Operating System : Genuine Windows 8 Professional 64-bit
Supplied Software : Microsoft® Office trial, VAIO CareTM, PlayMemories HomeTM, ArtRage® Studio Pro
Anti-Virus Software : Kaspersky® Internet Security 30-Day Trial Offer12
Graphics
Graphics Processor : Intel® HD Graphics 5000
Graphics Video RAM : Internal
Maximum Resolution HDMI : 1920 x 1080
Audio
Sound System : Intel® High Definition Audio with ClearAudio+
Power
Battery Type : Internal Lithium Polymer Battery (VGP-BPS36 6320mAh)
Battery Life : Up to 10 hours10
My new DUO has the same CPU and RAM as my FIT. It has an upgraded Wi-Fi card. It also has a big improvement in the graphics card. While my screen is shrinking from 14 inches to just over 13, the graphics should be much snappier.
I am particularly eager to run my DUO in flat tablet mode. It comes with a stylus and applications that make it easy to write, draw and paint. It will offer me a chance to use my machine in a whole new way that I have always wanted to try. Since it is a combo, it will be interesting to see how often I switch between laptop and tablet modes.
My biggest fear is that my DUO, while trying to fill both roles, will fill neither well. Time will tell. I looked at this class of combo machines a while back and thought they were prohibitively expensive and not ready for prime time. This new DUO, though, seems to be much more polished and full-featured, offering great capabilities in both laptop and tablet modes. It isn't a cheap device, but at some level you get what you pay for.
In the meantime, Chiclet keyboard on the Duo seems the same as on my FIT, the touchscreen is very responsive and the hard drive is now totally solid state versus the hybrid I had on my FIT. My new machine is not the cool brushed aluminum that I had before, but a matte-black aluminum instead. 
The machine should be here on Monday, so stay tuned for my early review next week. In the meantime, if you have any experience with the VAIO Duo, I would love to hear from you in the comments.