One of the big problems that the Intertubes presents is not just the incredible volume of advice people offer but how to figure out whose advice is worth trusting. And when it comes to financial advice knowing whether the advice giver has a good track record is vital.
For example, on the very popular CNBC TV show "Mad Money" the host, Jim Cramer, offers lots of frenetic advice on investment but really, how good are Cramer's picks? According to PunditTracker:
Given our assumed three-month holding period, we have now graded two years worth of Cramer's picks: those made from January 2011 through December 2012.  That amounts to 552 calls overall, of which 254 outperformed the index (46% hit rate).

On average, Cramer's picks returned -0.08% versus the 1.35% S&P 500 return over the corresponding period. That amounts to 142 basis points of quarterly underperformance, or 568 basis points on an annualized basis, which amounts to an F grade in our grading system. (We award an A for 500+ basis points of annual equity outperformance and an F for 500+ basis points of underperformance).
Thus the answer is apparently not very good and, indeed, not even better than simply flipping a coin.
So, if you were to be seduced by the show's glitz you might well not do so well in the stock market. But Cramer's not the only financial pundit out there, there are literally hundreds of them so where to turn for advice on whose advice is worth paying attention to? A new startup, TipRanks, has an answer.
TipRanks developed a system that scans financial sites and tracks the advice of analysts. They found that:
86.5% of analyst's ratings are 'BUY'. They are wrong 50.2% of the time.
Wow. So, on average, you'd do better flipping a coin.
To improve upon this lamentable performance TipRanks offers a browser add-on that identifies and tracks analysts and reveals their stats. 
The add-on shows:
Where an analyst is ranked amongst all analysts tracked based on performance.
Where an analyst is ranked amongst all analysts tracked based on performance.
The analyst's average return for recommendations vs. SAP-500
The analyst's success rate of recommendations. 
How many of recommendations were "successful."
The analyst's rating history-on all stocks recommended either way (buy or sell).
What the three top-rated analysts say about a particular stock.
Recent recommendations by top ranked analysts.
The ability to search for recommendations from top ranked analysts on any particular stock. 
Links to relevant news articles that provide the "why" behind a recommendation.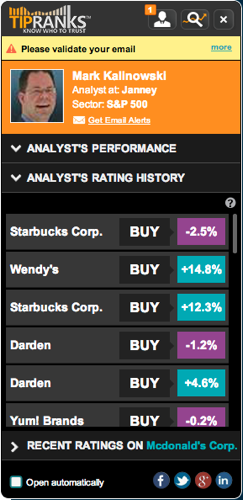 TipRanks developed its methodology in partnership with Cornell Finance Professor Roni Michaely and the ranking of an analyst combines the two key factors which most interest individual investors, that is, the analyst's ability to generate excess profit above S&P-500 and the percentage of times the analyst's recommendations outperformed S&P-500.
You can use TipRanks as a free service but there's not a lot of value at this level as you just get the analyst's accurcay report. For $19.95 per month you also get the analyst's rating history, the top ranked analyst opinions, integration with finance portals, the ability to search analyst ratings, and email alerts for analysts and stocks. For $24.95 per month you also get a live feed of the analysts who outperform the market and the ability to see all analysts on any stock.
TipRanks provides a fascinating insight into the world of finanical analysts and provides a powerful way for investors to objectively assess the performane of people who claim to have a clue about investing.
Note that TipRanks does not bother rating Jim Cramer.