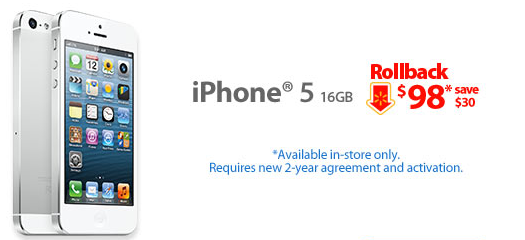 With the iPhone 5S and the rumored iPhone 5C presumably set for their big unveiling on September 10, Apple's iPhone 5 is available for cheaper than ever before. In a tidbit of news originally relayed by CNBC reporter Dominic Chu, it was revealed that Walmart will be cutting the price of the iPhone 5 down to just $98 with a two-year contract. Remember that the iPhone 5 cost $199 not too long ago, so this is definitely a deal worth looking into if you're not concerned with getting the latest and greatest from Apple.
Earlier today, we reported that three U.S. carriers (T-Mobile, AT&T, and Verizon) had all issued employee blackout dates with respect to time off that all fall in the September 20th date range. Consequently, many people are deducing, or perhaps guestimating, that the next-gen iPhone will launch on Friday, September 20.
As for details regarding the $98 iPhone 5, the deal can only be claimed in an actual Walmart store. It is, however, available for Sprint, AT&T, and Verizon customers.
via Walmart