Nokia may be a fatal attraction to Microsoft. According to Microsoft's Strategic Rationale (pdf) for the acquisition, Microsoft's smartphone market share will grow to 15% by 2018. With more than half of its revenues and operating profits from Windows and Office at risk due to the shift from PCs to mobile, Microsoft is moving too slowly and too conservatively in its response. A seamless Microsoft-branded smartphone/tablet/PC strategy does not address the other 85% of non-Microsoft smartphone users siphoning off the content that was once the exclusive domain of Microsoft.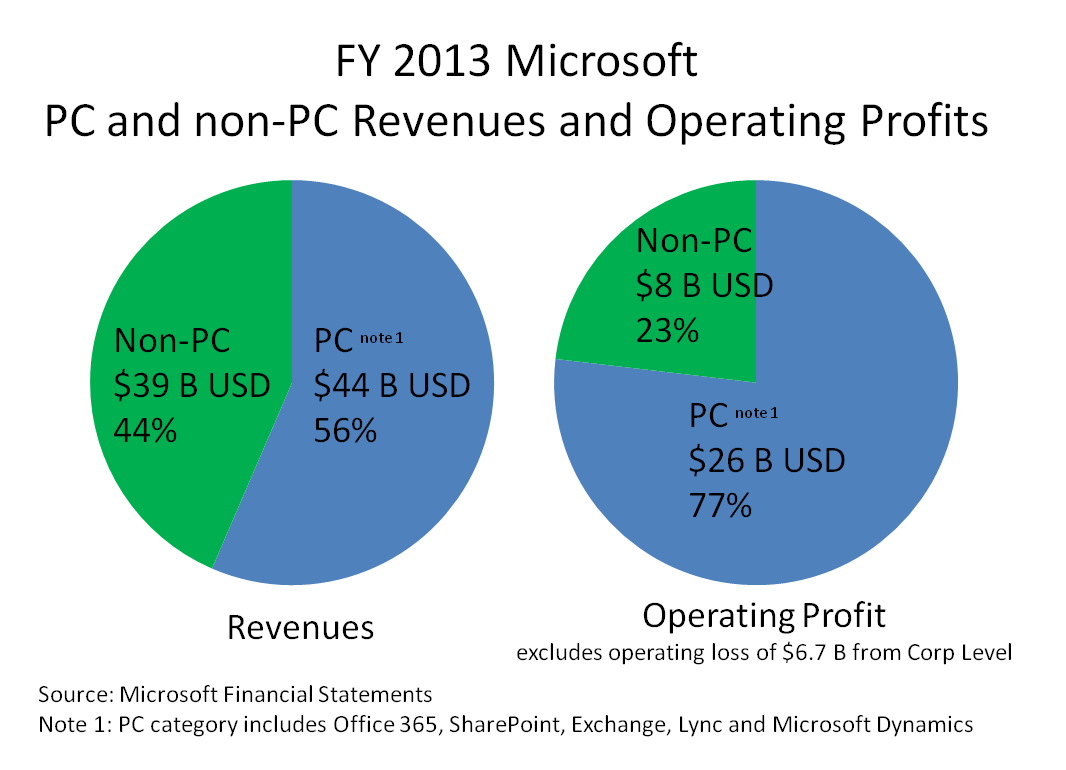 Microsoft has confused its mobile strategy with its desire to protect its desktop revenues. Due to the agonizing actual and forecasted decline of PC shipments, Microsoft has positioned Windows Mobile, Windows RT and Surface Pro on a continuum with PCs. It is this strategy - forcing its PC customers toward smartphones and tablets - that has slowed Microsoft's mobile market share gains, distracted the company's employees and produced a near billion-dollar loss due to last quarter's inventory write down. Now Microsoft could be at risk of squandering its mobile influence on Nokia and proprietary devices.
According to a March report by Arete Research, before the Nokia acquisition, almost all mobile industry profits are concentrated within Apple and Samsung. Microsoft's proprietary mobile device strategy locks them into winning the first or second market share position in both the mobile device market and the mobile software and services market. Microsoft is unlikely to displace Apple and Samsung as the top two in the device market, and should turn its attention to exploiting its enterprise leadership and building its cloud offering to make a run at the mobile software market. Although Microsoft has claimed that the Nokia business will break even in 2015 and turn a profit the following year, it will be challenging to sustain strong margins against low-cost Android smartphones.
Microsoft's success in mobile depends on its openness to Android and iOS devices, which make up the other 85% of the market. Microsoft's still-successful position with Microsoft Office/Exchange is its only advantage in reaching more of the mobile market. Harvard Business School Professor Willy Shir pointed to Microsoft's opportunity to use Office to exploit the shift to mobile.
"As hardware once again becomes a commodity, the value in the mobile market will be in software, and here it could well be Office 365 could become a key platform if Microsoft plays its hand well."
How Microsoft can fix it
Microsoft should adopt a prosumer strategy and start offering free Office on iOS and Android with email and free document storage. This kind of offer would validate a cross-platform use case with consumers.
With proof, Microsoft could up-sell the enterprise. This is the Dropbox approach. After enterprises see their employees reach a critical mass of file sharing and downloading, it will be the IT departments' responsibility to offer a more robust and secure solution. Microsoft could easily step in to upsell to a premium version of Office 365 that works with Active Directory, Exchange and SharePoint, and has more features.
Despite the enormous Microsoft Office user base, installs of the free Office 365 Android app are only in the 100,000 – 500,000 range because a paid Office 365 license is a prerequisite. The consumer alternative is free Google Apps for Android and iOS.
By putting up a mobile Office paywall, Microsoft would narrows its appeal to the broader market of Android and iOS devices that will increasingly be used to cloud access to personal and business data. The consequence – a mismatch of interest in Microsoft Office compared to Microsoft Office365. Google Trends shows declining search interest in Office and weak search interest in Office 365. Interest in Office 365 should be accelerating given the enormous legacy repository of Office documents and prolific use of Exchange email.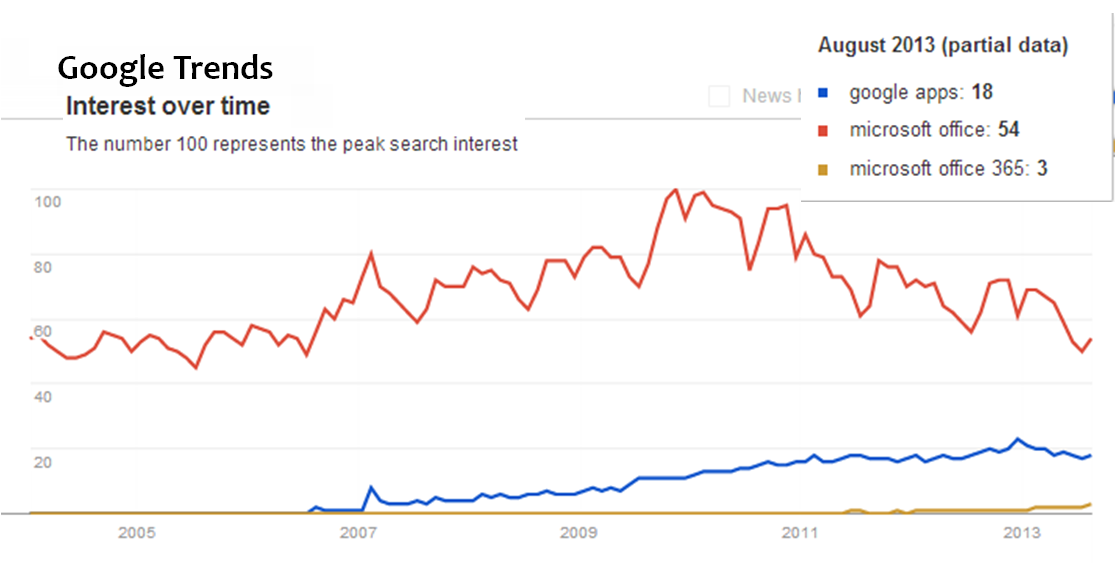 While reaching mobile users with a prosumer Office strategy, the experienced Microsoft developer relations team needs the tools and directive to take an open approach to winning Android and iOS developers to build apps that work with Microsoft's cloud and server solutions.
To promote its platform-as-a-service (PaaS) Azure, Microsoft Business Division (MBD) supported the open framework node.js before its proprietary .net, and implemented github source code repository support that has been broadly adopted by iOS and Android software developers. MBD is doing the right things to make Azure attractive to mobile developers; it just has to do it harder and faster.
Exchange, Microsoft SQL Server, Windows Azure, SharePoint and other big Microsoft cloud and server products need to deliver best-in-class secure software developer kits (SDKs) for Android and iOS. Similar to how Facebook put mobile first without building a phone, Microsoft needs to turn on a dime and make it easier for mobile developers to build apps for its cloud and server solutions.
Microsoft is not going to succeed in mobile by putting its logo in everyone's hands. It does, however, have a big opportunity to do so by putting its logo on everyone's apps.