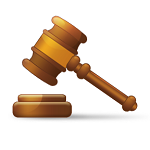 We numbered 88 would-be jurors at the start of Day 1 -- I was designated No. 86 -- and virtually everyone had come prepared with a smartphone, e-reader, book or newspaper in roughly that order of popularity (OK, there was only one newspaper, my copy of the Boston Globe).
By the end of Day 2 - which wasn't supposed to happen under this state's "One Day or One Trial" system of jury selection - our ranks had dwindled to fewer than 20, the jury that would decide a murder trial had yet to be fully impaneled, and after roughly 15 hours of sitting, patience was not the only commodity running thin.  
"I've seen everything on Reddit and read all of Twitter," exclaimed the ponytailed fellow to my left, while still staring and swiping furiously at his smartphone. "I've reached the end of the Internet."
We both also reached the end of the day without being chosen ... or asked to return.