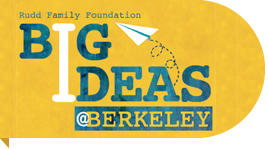 The 8th annual Big Ideas@Berkeley contest, which makes up to $300,000 in grants available to student-led entrepreneurial ventures, is open for applications until Nov. 5.
The contest, which requires that at least one team member be at UC Berkeley or a qualifying campus (details can be found at bigideas.berkeley.edu), features 9 categories of business, including IT for Society, Open Data, Global Poverty Alleviation and Improving Student Life. Those whose proposals are accepted can receive up to a $10K grant, plus have access to mentors and workshops to bring their ideas to fruition.
Got an idea that could be the next big thing? The 2013-2014 Big Ideas@Berkeley contest is now underway — offering $300,000 to help you turn your idea into reality.
Past winners include everything from The Secret Life of Urban Animals to Metamouse, which enables multiple users to share a computer mouse.

Also coming up: The MIT $100K Entrepreneurship Contest, which has an Oct. 15 deadline for submissions to the first of 3 contests within the contest. First up is the Pitch Contest, in which contestants can win up to $5K for a 60-second pitch delivered on Nov. 6.
Following that are the Accelerate and Launch contests, which kick off in November and March, respectively. The Launch contest has a grand prize of $100K at stake, and in the past has been won by outfits such as Akamai, HupSpot, Sanergy and CloudTop (now filepicker.io).
The MIT contest began in 1989 and has spawned dozens of companies over the years. Overall, $350K will be up for grabs among the 3 MIT contests this time.
Bob Brown tracks network research in his Alpha Doggs blog and Facebook page, as well on Twitter and Google +.