Just as a disclaimer: The data in this image is fake, so don't take it the wrong way.
There are a variety of parody Twitter accounts and some come up with amusing stuff now and then. The latest to cross the Twittersphere comes from our friends at Small Data, a company that asks, why spend energy going through big data, when small data can give you answers that are just as good?
While some companies have attempted to investigate what the top use cases are for the cloud, Small Data has its own list. Here it is. Remember: don't believe a word of it.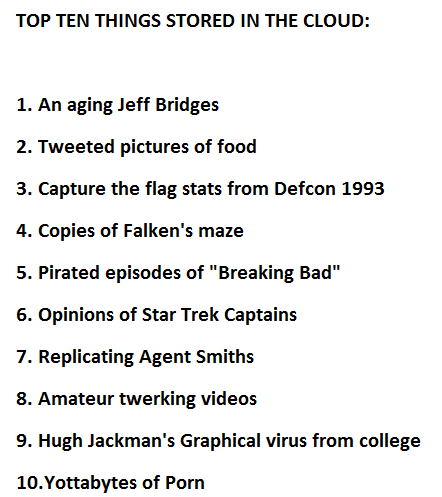 Now, for some background on Small Data. It's a company looking for $50 in crowd-sourced funding. Here's a description of the faux business: "Big Data is daunting, confusing, and grammatically incorrect.. Small Data is an algorithm that adds common sense to data analytics with higher levels of accuracy than Big Data... Small Data is about developing a new algorithm that will be the simplistic and precise action that finds your keys." No one wants to lose their keys, so this could actually be a solid business idea.
And this is the photo of the company's twitter account:
Feel free to follow them on Twitter (@small_data), they have a variety of other tongue-in-cheek, snarky posts. 
Senior Writer Brandon Butler covers real cloud computing news for Network World (not just the parody accounts) at NetworkWorld.com. He can be reached at BButler@nww.com and found on Twitter at @BButlerNWW.