The biggest problem with electric vehicles (EVs), other than price, is power storage: The amount of power that can be stored in even the most sophisticated batteries limits vehicle range to about 200 miles, recharging can take 4 to 8 hours (even a 30 minute "quick charge" takes roughly 30 minutes), and public charging stations are still relatively rare.
All of this makes owning an EV rather more challenging than owning a conventional vehicle so if you've planned your travel according to where you can get a top up you don't want to find the charging station not working ...
As I left the UCSF conference center in San Francisco last Thursday evening I spotted a Blink EV charging station in the garage that was behaving oddly; it just had a mostly blank, glaring white screen ...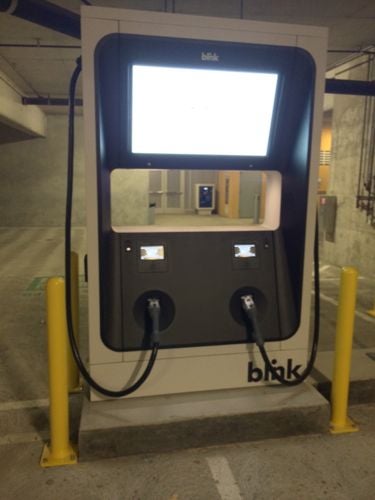 ... except for a small dialog box:
The application XiboClient running charging station had thrown what looks like a Windows XP application exception and apparently needed someone to plug in a keyboard and reset it (BTW ... Windows XP?! Wow.). 
The subsystem that had bombed was Xibo, a free, open source digital signage application, and the component that had bitten the big one was the clientside application. While the cause of the problem is not obvious I was surprised to see the machine just sitting there, doing nothing to correct the fault. You would have thought that some kind of watchdog subsystem would be used to detect and relaunch failed apps ...
I asked Blink customer support whether the charging station would still work with the error shown and was told that sometimes it would, sometimes it wouldn't. It looks like that expensive electric vehicle you're driving that needs a top up is going to have to wait until the recharging ststation is rebooted.
Charge a comment below or at gearhead@gibbs.com then follow me on Twitter, App.net, and Facebook.
[Udate] From Blink: "Like any software, the software operating the EV service equipment occasionally encounters issues and in most cases, the issues can be resolved remotely by Blink support technicians. The screens of the DC fast charging do run on Windows Media Player."