Motorola's has applied for a patent (United States Patent Application 20130297301) titled Coupling an Electronic Skin Tattoo to a Mobile Communication Device.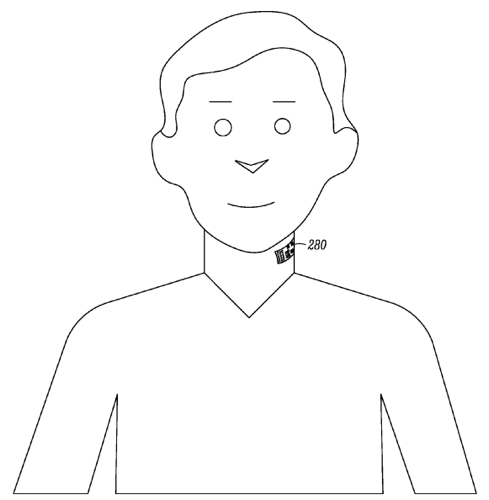 Motorola's Electronic Skin Tattoo
As we all know, at the heart of the patent game is breadth of the patent; the broader your patent is, the greater the chance of snagging some hapless company when it produces something that falls within the overly broad scope of your patent so you can threaten to take them to court for violating your intellectual property and make them pay for a license. This is, essentially, legalized extortion.
The abstract for Motorola's patent is:
A system and method provides auxiliary voice input to a mobile communication device (MCD). The system comprises an electronic skin tattoo capable of being applied to a throat region of a body. The electronic skin tattoo can include an embedded microphone; a transceiver for enabling wireless communication with the MCD; and a power supply configured to receive energizing signals from a personal area network associated with the MCD. A controller is communicatively coupled to the power supply. The controller can be configured to receive a signal from the MCD to initiate reception of an audio stream picked up from the throat region of the body for subsequent audio detection by the MCD under an improved signal-to-noise ratio than without the employment of the electronic skin tattoo.
If you take the time to read the claims and detailed descriptions you'll see just how vague the patent is. It repeatedly refers to an "electronic skin tattoo" but never actually explains what a tattoo is and, indeed, is worded such that it could include a system that was applied like a decal ... which is exactly what the company was showing off back in May this year.
The Biostamp from MC10
Developed by MC10 and called the Biostamp, the decal-like "stretchable electronics" includes ECG, EEG/EMG, photo, strain, and temperature sensors powered by a wireless power coil.
While the MC10 technology is cool pretty much everything in the patent is handwaving and the lack of details and specificity makes the applicability of the patent so broad as to warm the cockles of any patent lawyer's heart.
You want an example of how the patent system is broken? This is a great one.
Vent below or to gearhead@gibbs.com then follow me on Twitter, App.net, and Facebook.