Studying for a certification and trying to find something of quality online that will help you?   Or maybe you are like me and you are just trying to keep up in this fast paced and rapidly changing world of today's IT?  Or maybe your department or company (finally) has decided to start looking at and planning for IPv6.  Whoever you are.  Whatever your reason.   If you are in the world of  IT and you are looking to keep up, CiscoLive365 is your answer.  
CiscoLive technical breakouts for FREE!  "Free" as in you pay nothing.   "Free" as in no catch at all.  "Free" as in "oh my gosh are you serious?"  I feel like I'm trying to sell something here.  But that is the beauty.  That is why I'm so stoked.  There is nothing to buy.  That is exactly why I feel like shouting it from the roof tops.  
How to Use CL365
Want to learn more about IPv6?  Go to the session catalog on www.ciscolive365.com.  Enter "IPv6" in the search area and then go to the left side.  Expand "Event" and select which events to search, for example, here we will select all 2013 events.  Expand  "Features" and click the checkbox on the left that says "Sessions with Video".   And VOILA!  You now have 70 sessions to choose from.   That should keep you busy for awhile.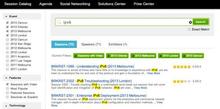 Let's say that you have decided to start your CiscoLive 365 experience with London's 2013 BRKRST-2301.  Now that you have selected it you can view the session, download the session presentation in pdf format, share the page, see similar sessions, etc etc.  
Use CiscoLive 365 to Grow Yourself and Your Team
Teams work so much better than silos.  Silos are really great to store grain and keep rodents out.  But they are NOT a way to work in a group (my two cents).  
So, do your team a favor.  Bring "lunch and learns" back!   Have one person who is really passionate about learning and see if they would like to volunteer to be your team's "training coordinator".  Poll people on the team and find out what their interests are.  Then, once every two months have a team "lunch and learn" with food, the team, and CiscoLive 365.