LivingSocial, a struggling daily-deal company heavily funded by Amazon.com, has been down for more than 24 hours now, making a mockery of this sign on its website promising a speedy return.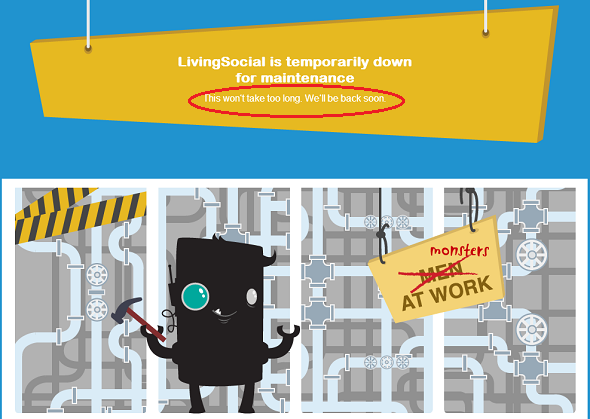 From a company blog post published not long ago:
As you probably know by now, our website and mobile app went down on Tuesday afternoon. Throughout the night, our teams have been working nonstop to address the issue and attempt to ensure that it never happens again. We have isolated the technical issue and are pushing forward to have the site up and running again as soon as possible.

We can let you know now that it is the result of an internal issue, and there is nothing to indicate that this was the result of any external factors. Also, there is nothing that leads us to think that any consumer or merchant data, or financial information has been compromised.
A Salon writer kicks them while they're down.
(Update: Seems their attempts to help aren't helping either, as with the suggestion that those unable to access the website can get at their LivingSocial vouchers via email confirmations in their inboxes. Tweets one unhappy customer in response: "Brookstone couldn't validate a voucher. You say to check our email for purchased vouchers. But vendors can't validate them!")
(Update 2: Just stumbled across one reason some are being unsympathetic to LivingSocial's plight: an offensive Halloween party.)
(Update 3: Still down, 3:30 p.m.)
(Update 4: Same, 5:40 p.m.)
(Update 5, Nov. 14, 9:30 a.m.: Looks like they're finally back.)