Well, Google has released Android 4.4, named KitKat (with Nestle's blessing), to the world. Well, sort of anyway. Even though KitKat is released and Android is supposedly open source code, don't hold your breath waiting to upgrade to the newest flavor of Android on your own device.
Highlighting another key difference between Apple's iOS and Google's Android, not all upgrades are done at the same time in the Android universe.  When Apple releases the next version of iOS, whether it is a minor upgrade or a major upgrade such as iOS 7, the entire iOS population (just about every device, anyway) gets it at the same time and the race is on to see how crushed Apple's servers can be. After the initial rush of a few days, the overwhelming majority of Apple iOS users are upgraded and within a few weeks the numbers are probably 70% or higher.
On Android, it is a very different experience. In fact, it was only recently that Jelly Bean became the dominant Android flavor (see chart below from Android.com). Believe it or not, Gingerbread and Ice Cream Sandwich combined still represent about 40% of all Android devices! Some devices are just never updated by their manufacturers. Others get caught up in carrier purgatory, awaiting their cell carriers like AT&T, Verizon, etc. to test and approve the upgrade.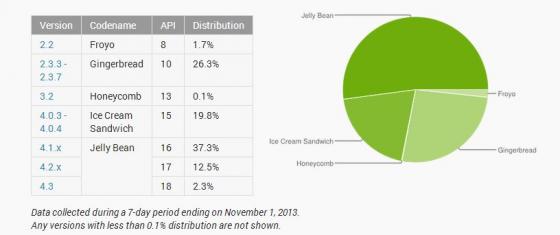 Unlike in the Apple world (sort of like comparing Star Trek and Star Wars) adventurous Android users can bypass their manufacturers and cell carriers (and probably their warranties too) by rooting their Android device (you don't jailbreak Android) and installing any one of the number of ROMS available. I am not sure what ROMS are our yet with KitKat, but I know CyanagenMod is hard at work on one.
Anyway, a quick roundup of who has KitKat now shows that:
Nexus 5 phones- The phone was announced and ships with KitKat, so if you can get your hands on one, you are in.
Nexus 7 tablets - Both versions of the Nexus 7 tablet are getting KitKat and it is supposedly available. However, reports are that the rollout is going slowly and only a small portion of the tablets have actually received the update.
Nexus 10 tablets - With the imminent release of the new Nexus 10, which will have KitKat, the older Nexus 10's are supposed to have KitKat available. Again, not a lot of reports of tablets actually receiving the upgrade just yet.
Nexus 4 phones - These are next in line for the KitKat upgrade and I would expect them any day.
Beyond the Nexus line of devices there are various rumors and stories circulating. HTC has supposedly submitted a version for its HTC One to Google for approval, but it may then get caught up with the cell carriers, so all six of you HTC One users shouldn't celebrate just yet. 
The Motorola folks should have a quick upgrade for Moto X users, seeing as how Google owns Motorola now. But again the few of you out there using Moto X don't get too excited - your cell carrier still has to approve the upgrade and that could add weeks or even months to your wait.
For all of you Samsung Galaxy users (including myself because I am stuck with this brick or another 18 months or so), the wait may be quite a bit longer. There are rumors out of the UK about a KitKat S4, but at this point they are just rumors. Also, AT&T has never been known to be quick on the trigger with any OS update, so I am resigned to seeing KitKat maybe next Halloween.
The good news is that KitKat supposedly runs in as little as 512k of memory. That means that many older or less-powerful devices should be eligible to get KitKat eventually. This is important when you consider that by some estimates Android has something like an 80% market share. While that sounds high, a good percentage of those machines are lower-value, less-powerful phones. Again, comparing to the Apple world, many will often just leave the older, less powerful devices out of the upgrade loop.  
Which of these is the right approach? I would think there have to be some tradeoffs in making sure the OS works in older, less powerful devices. But if total market share is your goal, I can see where it makes sense.
In any event, KitKat promises many improvements to the end user and even more for developers. Better security and tighter Google Now integration are just two of enhancements. If you are like me and can't wait to try the latest, have a look for a KitKat ROM and root your device. However, do so at your own risk. Or you can wait for who knows how long and wait for KitKat to come to your device.