The other night we decided we wanted to watch something on Netflix so we switched over to the Apple TV then spent the next 20 minutes looking for the Apple remote. It was, apparently, nowhere to be found ...
As unlikely as it may be, just in case you haven't seen the Apple remote it is an elegant piece of engineering but somewhat on the small side:
Apple's infrared remote
After 20 minutes we gave up (it turned up the next day wedged down the side of a seat cushion though I swear I looked there at least three times) and we went back to watching DirecTV (their big, ugly remote is almost impossible to misplace having apparently been designed by someone who admires children's toys).
I have just found a product that, had we had it, would have allowed us to find the Apple remote by simply turning out the lights: Slickwraps Apple TV Remote Glow in Dark Skins.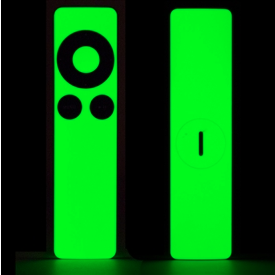 Slickwraps Apple TV Remote Glow in Dark Skins
Available in green, blue, orange, yellow, and purple for $9.95 these skins could save your sanity. That is unless the dog has stolen the remote in which case you may never find it ...
Harvey stealing the Apple remote
Locate your thoughts below or to gearhead@gibbs.com then follow me on Twitter, App.net, and Facebook.