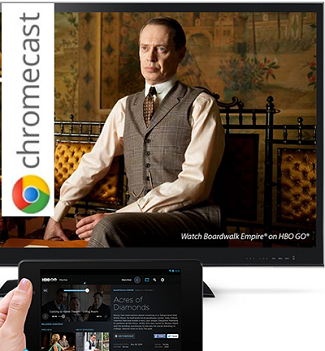 HBO GO on Chromecast, just announced today, expands the definition of TV everywhere as a platform. If you were waiting to buy live episodes of "Boardwalk Empire" for a nominal price per episode, you'll still have to wait. A premium cable subscription is still required for HBO GO with Chomecast.
This is an important development in television programming because it is the first time that "live television" is delivered via Chromecast. HBO GO is the portal for watching live HBO episodes on Android and iOS mobile devices and PCs. Now, instead of watching a favorite show such as Game of Thrones at the original time of broadcast on a smart device or PC, the HBO subscriber can watch the show on any large-screen television equipped with Chromecast.
Netflix and Hulu Plus are already available on Chromecast. They are different because they are streamed archival video services. There is a little live or near-live content available on these services. Users can only watch older episodes of premium content. Popular shows such as "The Voice" are available on Hulu 24 hours after broadcast, and "New Girl" eight days after broadcast. But current season premium content, such as that produced by HBO, usually isn't available at the time of broadcast from these streamed services, though earlier seasons' episodes are available on all or some of the streamed video services from iTunes, Amazon Prime and Netflix. What one watched last night on these streamed services is too old to be discussed around the water cooler the following day, and one's friends will ignore tweets sent while watching an episode of last year's season of "Game of Thrones."
With HBO GO, Chomecast becomes a platform for sharing live television content. Sharing should not be mistaken for using programs like BitTorrent to download and share unlicensed content, but rather the ability to view one's favorite programs with family and friends on any large-screen TV equipped with Chromecast.
HBO GO became available for Apple TV earlier this summer, but it's not the same. Only an Apple device can share to a large-screen TV using Apple TV. So the Android HBO GO subscriber visiting a friend with an Apple TV can't share the content on a large-screen device equipped with Apple TV.
Chromecast's $35 price tag is about equal to a premium bottle of wine, inexpensive enough to bring to a friend's home so one doesn't miss a favorite live episode of an HBO program.
HBO GO and Chromecast could be shared with a son or daughter away at college by sharing the account password. Or, as reported by Jenna Wortham of the New York Times, the password could be shared with friends. This form of sharing may be a violation of the cable company's licensing terms and conditions, but the content providers such as HBO might not really care. A little sharing promotes the content providers' TV shows with viewers who are not yet ready to pay upwards of $120 for a monthly cable subscription.
Chomecast is more than an internet connection for sharing live TV content on a large-screen TV. It is an open platform based on Chrome that is straight-forward for developers to incorporate into an app, and the video stream runs in part over Google's managed network.