Forrester analyst Lauren Nelson has spent the last 6 months taking a deep dive into the private cloud market - she compiled a list of 27 vendors to profile, then narrowed that down to 10 and took in-depth product demonstrations and conducted customer interviews for each vendor. She judged each of the 10 companies on 61 criteria that she came up with based on inquires she has received from clients, along with the input from Forrester's other analysts. The result is a pretty insightful look at the private cloud market as it stands today and the strengths and weaknesses of various platforms.
[READ MORE: HP, Cisco and Microsoft stands out in private cloud report]
In reading the Forrester Wave Report for Private Cloud Solution Q4 2013, a couple of points jumped out at me: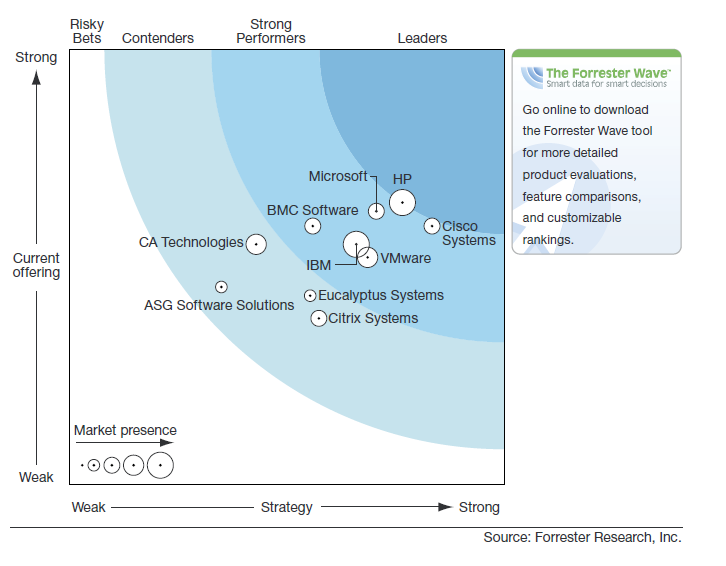 -Faux private clouds
Many private cloud deployments today are not really private clouds, they're basically advanced virtualization management, Nelson says. But that's OK. Many companies have cut down their VM provisioning time from 12 days to two days. That's pretty big. It could be better - there could be on-demand self service provisioning in a true private cloud, but many companies are getting 'good enough' results by incorporating some, but not necessarily all of the features private cloud management platforms offer. A true private cloud allows for automatic provisioning of resoruces on demand or from requests, along with being able to manage virtual, physical and public and private workloads, plus having it all centrally managed and tracked to ensure security and optimization. Many times there are lighter-weight tools compared to full-on private cloud management platforms that can deliver customer value though. This allows customers to avoid the sometimes seven-figure cost of a full-on private cloud deployment, but still get some benefits of private-cloud like environments. We've heard this before. 
-HP is a top dog in the private cloud
"I couldn't be more surprised myself," says the author of the report about HP landing in the top spot. There is a lot of hype around its marketing efforts, but Nelson says HP came through with the product too. What impressed her most was the breadth and depth of the offerings HP has and the intuitive nature in which the company has tied all the features together. The base of the offering is CloudSystems Enterprise Suite, which incorporates its server, database and middleware automation tools together (or each of those can be purchased individually). Many vendors require customers to access a separate user interface to access different features, but in HP's platform, many of the services are tied together, allowing for easy navigation. It also has helpful features like directory federation, application and service-level monitoring decision trigger automation, and multi-environment application blueprints, she says. And, HP has the most advanced OpenStack API integration among the vendors she analyzed - including IBM at this point. A big advantage for HP is that it's a big enterprise service provider already, and the company has been able to use that strength to migrate existing customers over to its private cloud platform. It's leadership in the category could attract new customers too though, she says.
-Cisco up, VMware down
Behind HP, two other companies were named as leaders in this report. One was Microsoft - no surprise there with its robust Systems Center and Windows Server offerings, which connect up into the Azure public cloud. But there was another name on the list that is not typically associated with the private cloud software market: Cisco. The company's Intelligent Automation for Cloud and UCS Director do not have strong market presence, but scored the highest among any vendor for vision and strategy. "Cisco envisions private IaaS clouds moving to full ITaaS solutions with complete service catalogs to deliver all IT services, shifting away from infrastructure delivery and toward the application, its life cycle, and SaaS single sign-on (SSO) integration," Nelson reports.
One company that seems synonymous with private cloud is VMware. Nelson reports that VMware has a solid offering, but nothing really stood out to her about it. While vSphere is widely deployed as a virtualization platform, fewer customers go all in with VMware's management tools like vCloud Automation Center (vCAC). "It's a solid product," she says, noting its hybrid cloud integrations and CLI capabilities, but other platforms rose to be top of the line.
Ssome other takeaways too:
-Emergence of application lifecycle management and platform as a service capabilities in private cloud solutions
-Hybrid cloud management is not quite ready for prime time yet
-Open source is strong in the private cloud market: HP and IBM use OpenStack; Citrix uses CloudStack, Eucalyptus is open source too
-Amazon, the top dog in the public cloud, is nowhere to be found in the private cloud market 
What's your takeaway? 
Senior Writer Brandon Butler covers cloud computing for Network World and NetworkWorld.com. He can be reached at BButler@nww.com and found on Twitter at @BButlerNWW. 
NOTE: This article was changed to correct the name of Cisco's private cloud software product.