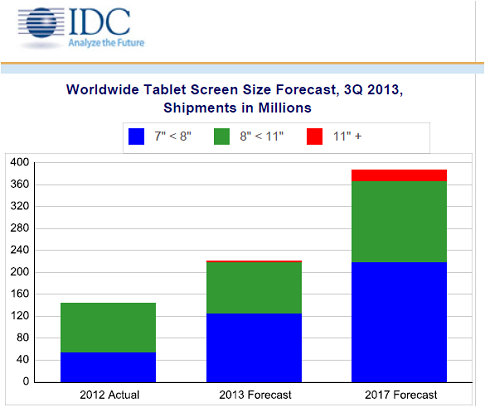 IDC forecasts the tablet growth tsunami will calm to single digits in 2017. A good reason for that could be improvements in computer-human interaction, which will make mobile devices with larger screens less vital.
The "OK Google Now" command used to ask a MOTO X to open GPS, reply to a message or search for a person's Linkedin profile, thrills and disappoints. The no-nonsense, always-on and accurate MOTO X speech recognition thrills. It disappoints because it does not scale yet across every Android app and few other smart devices and computers have speech recognition that is nearly as good.
This will change, and maybe soon. Google has hired artificial intelligence and speech recognition guru Ray Kurzweil as director of engineering. Apple also employs speech recognition experts. Gunnar Evermann, Larry Gillick and Don McAllaster were reported by Xconomy to be working in Apple's Cambridge speech lab. Pure-play speech recognition competitor Nuance has also opened a mobile R&D lab in Cambridge. The accuracy of speech recognition is on a course of continuous improvement. Much attention is directed to go beyond speech recognition to understand the intent of the spoken word, where results are still mixed.
What if a larger screen tablet form factor wasn't necessary to compensate for small characters and images and limited human dexterity to get the desired results? That even the iPad has been made compatible with keyboards makes it clear that another form of computer-human interaction, such as speech recognition, is needed.
Speech recognition interfaces to backend services will improve the user experience to the point that voice will become the predominant computer-human interaction. "Developing natural language understanding so Google's computers can read everything and really understand [the content, and] do a more intelligent job of search," is how Kurzweil described his new job at Google to the Wall Street Journal. The MOTO X speech recognition experience scaled to every human-computer interaction is a pleasing future, but it will depress tablet shipments.
Chromecast and Miracast are new technologies for wirelessly "casting" or redirecting mobile device and computer screens to another display. New televisions, notebooks and mobile devices often have Miracast built-in. Older televisions can be easily retrofitted for less than $100 with Miracast. Though sometimes these technologies need patience to be made operational, casting a picture, movie, music or a document from a mobile device to a large-screen entertainment center is impressive.
Conscripting a large screen when it is needed could further depress tablet shipments. The use case for a 10-inch tablet's larger screen compared to a smartphone's is somewhat limited when much larger monitors and televisions are simply co-opted to provide a better audio and video experience.
Combining advanced speech recognition with effortless casting could even change the way smartphones are used. The smartphone could become a wide-area communications hub in a personal cloud of wearables, such as Google Glass, smartwatches and fitbits that use Bluetooth Low Energy BLE to connect to smartphone apps and cloud-based services.
Qualcomm is working on a standard for peer-to-peer networking named AllJoyn. It is a development framework for building proximate networks with device discovery, trust and security so that the heterogeneous devices that are carried or worn can use nearby devices. AllJoyn is designed so that personal and wearable devices know "the fact that you have a wireless speaker in the room that you just walked into or the projector in the office actually has the ability to stream your PowerPoint slides without you having to plug a VGA cable in," Rob Chandhok, President of Qualcomm Interactive Platforms, explained at a recent GigaOM event.
A formidable amount of integration lies ahead, combining the personal cloud of smartphones and wearables, the proximate network of intelligent devices in the room or building, and backend cloud services. Advanced speech recognition that scales across smart devices and yet-to-become smart devices won't happen overnight. But when it does, it will seem like it and put downward pressure on tablet shipments.
Predicting change is hard; predicting exactly when change will occur is nearly impossible. After a decade of failed attempts to produce a consumer tablet, no one could have predicted that tablet shipments would suddenly explode from 17 million in 2010 to 221 million, as expected by IDC in 2013. Likewise, it is hard to predict exactly when advanced speech recognition will become the primary means of computer-human interaction, though the recent developments in the industry reassure that a breakthrough of computers consistently understanding the intent of speech is on the horizon.
One almost certain prediction is that tablets won't disappear because people will still need them to read books.