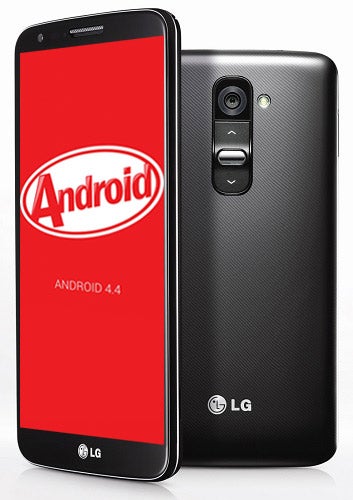 After a false start, I was able to evaluate the LG G2 Verizon version, and I liked it. The first attempt failed because I approached it the wrong way, like it was a stock Android phone, and there is too much that is different about the G2. Not bad, just different. Resetting the G2 to factory settings, starting over and letting its help tips lead me exposed a lot about this smartphone.
Someone who isn't a tinkerer or geek might find this tedious. One of the first help tips beckons the user to pinch the lock screen. This gesture shrinks the home screen and tiles six home screens, most empty. Someone anxious to get started with the newly unboxed smartphone might find this an imposition. The geek, on the other hand, will see six home screens that can be populated with apps in any order. The home screens can be reordered, and additional home screens can be added. He or she can imagine all the potential to create a personalized workflow.
Another tip - an apps icon can be changed by pressing down on it, and the icon can be enlarged. I did this with the phone call icon, doubled its size and moved it to the first home screen to make dialing while driving less distracting.
Swiping down presents the usual Android notifications plus a proprietary ribbon of settings called Quick Settings. Those driven to use this smartphone like their previous phones might see this as an intrusion. Quick Settings is a different way to access frequently used settings and a few custom settings, such as Quick Remote and Miracast to mirror the smartphone screen on a Miracast-equipped TV. Investigating the Quick Remote will impress most geeks because multiple infrared remote controls can be added to the smartphone to replace all the remotes used for TV. A custom remote can even be built. The Quick Remotes can be moved to the lock screen or any of the home screens for quick access.
These are just a few of the many nice but not can't-live-without-it features that personalize the smartphone that the G2 will present, if permitted.
Another of the many thoughtful details is the G2's support for 24-bit FLAC music files that use a lossless compression method to reproduce very high-fidelity music. I could not really test this because wireless speakers that were not available are necessary to really test this acoustic feature.
The G2 hardware specifications are top shelf. It's powered by a Snapdragon 800 Processor with 2.26Ghz Quad-Core CPUs. The screen is a full HD 5.2-inch IPS display comfortably encased in a plastic housing that just large enough to accommodate most one-handed gestures without becoming a two-handed phablet. It has a 13-megapixal camera with optical image stabilization that compensates for jiggles and wobbles that produces clear, colorful images and videos up to 60 fps. To emphasize the G2's high-spec camera and three microphones, LG included video and audio image processing apps that enhance videos. A 3000 mAh SiO+ battery will stand up to the heaviest use without a recharge.
The G2 has a couple of petty annoyances. The phonebook requires an extra gesture to make a call, and voice recognition is slightly less accurate compared to the Samsung S4 and the Nexus 5. The unique rear button configuration of the Verizon version is less pronounced than the unlocked version tested at the G2 announcement, making one-handed operation not as easy. To compensate for locating the buttons on the back of the device, the G2 has a tap to lock/unlock feature that requires a developed cadence to work consistently. This is not really a problem; it's just something that could frustrate a new user in the first week.
This is the right smartphone for geeks and tinkerers. The hardware is amazing, and discovery of the software capabilities is very rewarding and sometimes elicits a "wow!", because the G2 can be personalized to do what the user wants it to do.
Users who know how to use the Windows Control Panel or Mac Systems Preferences will like the G2's hardware, and most likely its software. For users with this skill level, should the high degree of personalization be found not to be useful, the stock Android KitKat ROM from CyanogenMod is available and will make the G2 act like a Nexus 5. For those disappointed because Verizon Wireless does not support the Nexus 5, a G2 with CyanogenMod 11 KitKat is a great substitute available for $99 with a two-year contract or for $500 without a contract.