I have just tested the Lumen Smart Bulb and I'm impressed ... with reservations. 
The Lumen is an LED bulb with a maximum power requirement of 7W producing a warm white light output equivalent to a 40 Watt incandescent bulb, it's dimmable, and has a maximum lifetime of 30,000 hours. The Lumen also has a 3 Watt RGB mode in which it can produce any of 16 million colors and, to ice the cake, it can be controlled from your smartphone or pad via Bluetooth 4.0.
The Lumen is yet another entrant, albeit a very sophisticated one, in the LED lighting market which is swiftly taking over the world of lighting. More long-lasting than other technologies, far more energy-efficient, and far more flexible in color output than other lighting technologies the only downside to LEDs is they are more expensive ... though when you take the operational lifetime and reduced electricity costs into account it usually works out in the favor of LEDs. I say "usually" because the cost of LEDs can vary from $9 or less for a soft white dimmable 7W LED bulb to the price of the Lumen which costs $69.99 each.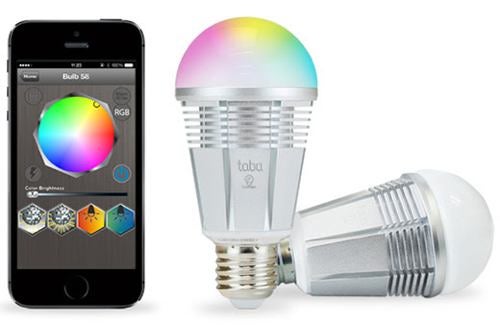 So, what do you get for your money with the Lumen over and above regular LED bulbs?  The Lumen comes with smartphone and pad apps (iOS now with Android soon) and can be programmed to produce either a warm white light or a specific color and can be set up to switch on when you are in its vicinity (a range of about 4 feet; note that the app has to be running). 
The Lumen can also be configured for "Romance Mode" (shifting warm colors), "Relaxation Mode" (cool blues and greens), "Wakeup Mode" (at a preset time the bulb mimics sunrise colors with increasing brightness over a selectable period), and "Call Alert Mode" (the bulb flashes at a selectable rate and specified color when your phone rings).
Finally, the Lumen can be put into "Music Sync Mode" or "Party Mode 1" or "Party Mode 2" all of which synchronize the Lumen's color and flashing with whatever music your smartphone is playing. The app also allows you to control up to 10 Lumens at once and you can select "All On" and "All Off".
A neat feature is that you can pair the control app and a bulb simply by switching the bulb on when the app is running.
The Lumen is intriguing and its color shifting abilities are entertaining but there's no doubt it's very pricey compared to other LED products and the significantly reduced light output in color mode is a little disappointing. But what's really disappointing is that the Lumen is a closed system and hasn't got an API so you can't integrate the bulb with any home control systems or control it from the Web. This is, I'd argue, a huge deficiency and reduces the product's chances of widespread adoption placing it more in the novelty product category. 
Illuminate me below in the comments or to gearhead@gibbs.com then follow me on Twitter, App.net, and Facebook.