Google has a relatively new feature (it launched in November) named Helpouts, which is a program that's meant to connect people who have problems with problem solvers. It uses a Google+ account and other Google tools like Hangouts.
For Cloud Chronicles readers, this guy might be helpful: "Adrian" manages servers and networking for an internet service provider and he's available to help "with anything networking related stuff (switches/routers) at beginner/medium level."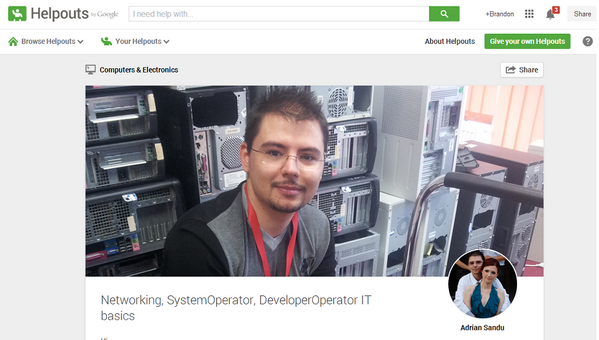 That includes:
 * Network concepts (how they work) and basic implementation
 * various routing protocols like BorderGatewayProtocol/OpenShortestPathFirst
 * VirtualPrivateNetwork tunnels like openvpn
 * maybe examples if they're not too advanced
Anything else IT related like:
 * various information about protocols  and services -
DomainNameSystem/DynamicHostConfigurationProtocol/Mail(Post Office Protocol/Simple Mail Transfer Protocol)/Databases(MyStructuredQueryLanguage)/Web(Hyper Text Transfer Protocol)/File Transfer Protocol/RADIUS-Authorization-Authentication-Accounting/Point-toPointProtocol-over-Ethernet etc.
 * distributions - linux based - fedora, ubuntu, gentoo, debian, etc.
 * programming, scripting in php/bash - and maybe others (perl/python) since the syntax is the only problem I can dig
 * virtualization - vmware esx basics ideas and concepts ( and related storage )
 * all sorts of gadgets
[MORE DIY: 10 Biggest home networking mistakes (and how to fix them) ]
He may not be able to configure your next data center. But, if that router is giving you trouble at home, perhaps he can lend a hand. Out of 51 reviews, he's gotten 5 stars 44 times, and his services are free.
Google has a variety of other "Helpouts" too, including other computer and electronic related helpouts, such as Apple/Mac and mobile device support, Apple product support, Windows Fix problems and even a cloud architect and Cisco UCS expert.
Others are on topics ranging from home and garden, fashion and beauty, cooking and health. Some Helpouts are free, but usually they cost between $1 and $5 per session, which can range between 15 minutes and an hour, with additional per-minute charges.
Senior Writer Brandon Butler covers cloud computing for Network World and NetworkWorld.com. He can be reached at BButler@nww.com and found on Twitter at @BButlerNWW.