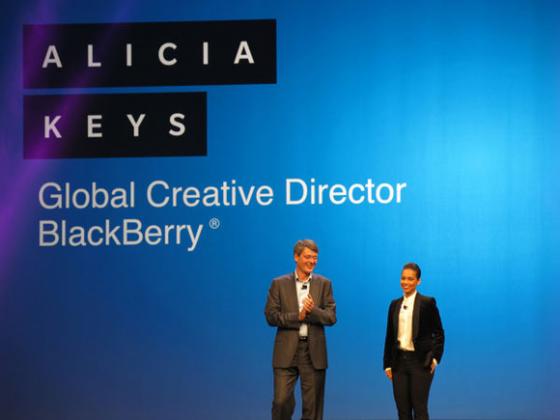 Ex-BlackBerry CEO Thorstein Heins & soon-to-be ex-creative director Alicia Keys from last March.
BlackBerry has confirmed it is ceasing its year-old relationship with "global creative director" Alicia Keys, the "Girl on Fire" singer who apparently wasn't able to help the smartphone maker catch fire itself.
In a statement issued to the Crackberry blog, BlackBerry states: BlackBerry and Alicia Keys have completed our year-long collaboration. We thank Alicia for her many contributions including providing creative direction for the BlackBerry Keep Moving Project which attracted more than 40 million visits, advocating for women in STEM and launching the BlackBerry Scholars Program. We have enjoyed the opportunity to work with such an incredibly talented and passionate individual.
+ ALSO ON NETWORK WORLD: 33 Best/West Celebrity Tech Moments of 2012 +
Tech companies giving celebs fancy titles has been all the rage in recent years (Lenovo recently named Ashton Kutcher its newest product engineer and Lady Gaga has put her inventiveness on display at events like CES for Polaroid as its creative director). But BlackBerry is taking a decidedly less glamorous approach to its comeback these days, under company fixer/CEO John Chen. The company's recent headlines, for example, include a move to hand over some manufacturing to Foxconn so that BlackBerry can focus on software.
Meanwhile, we'll need to keep our eyes on TMZ and PerezHilton to find out what smartphone Keys is wielding next...(a SCANDAL erupted last February when Tweets from Keys' Twitter account appeared to come from an iPhone...but she claimed she was hacked!)