Thinking about making a Verizon Wireless smartphone upgrade? For subscribers with an unlimited data plan, a subsidized upgrade will cap monthly data allowances at 6GB per user. Is it a good deal?
It depends. Depending on the user's location, Verizon LTE 4G broadband data service can be better than DSL and as good as some cable internet services. Verizon's LTE 4G could replace wired internet right now, and the next generation of LTE might even be able to displace Verizon Fios.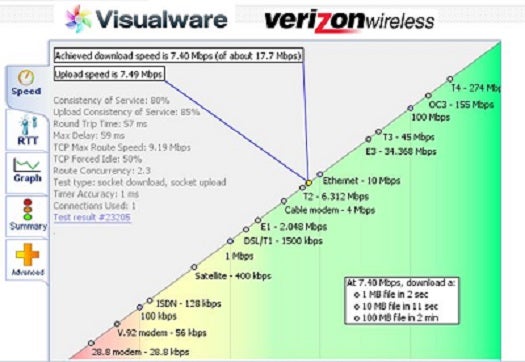 Before taking the subsidized upgrade bait and giving up my unlimited data plan, I tested LTE as a wired internet replacement. After testing, I decided to keep the unlimited data plan and fork over $650 to upgrade my smartphone without a subsidy.
Four smartphones were tested: a Moto X, an LG G2 and an older Galaxy Nexus (all on the Verizon Wireless network), and a Nexus 5 on the AT&T network. I installed PdaNet+ to convert the smartphones into Wi-Fi hotspots to share the LTE 4G connections like a Wi-Fi router does with other devices. To test network performance, I used Visualware's speed test to measure data transfers to and from a server in Reston, Virginia.
It is legal to use your smartphone as a Wi-Fi router. Verizon Wireless tried to block users from installing apps like PdaNet+ and pressured Google to remove these apps from the Play Store a few years ago. But in July 2012, Verizon Wireless and the Federal Communications Commission reached a settlement in which Verizon agreed to stop interfering with the sharing of smartphones' LTE data services.
There were subtle performance differences between the smartphones and the carriers, but in the antenna-dense suburban test area, these did not significantly impact network performance.
Proximity to the wireless network was important, but not as important as network congestion and time of day. All four smartphones were tested in an environment with strong four-bar signals within 100 feet of an LTE antenna near a shopping mall during the heavy mid-afternoon shopper traffic on New Year's Day. This produced poor results, averaging 2.8Mbps download and 0.5Mbps upload speeds.
A less-congested antenna with a two-bar signal produced consistently good results; 6Mbps uploads and 6Mbps downloads. These are cable speeds!
With two bars of service, browsing was responsive enough to forget that the computer was not connected to the wired internet. Downloading multiple large files over a gigabit in size averaged 0.5Mbps and peaked at almost a 1Mbps.
I tested Netflix and Hulu video streaming sites using a Nintendo Wii, both of which stuttered when run on two-bar signal strength. However, changing the MTU size on the Wii from the default 1500 bytes to 1428 eliminated the stutter and improved the overall speed consistency, from 62% to 80%. Speed consistency is a weakness compared to wired cable and fiber internet which consistently produces better than 90% speed consistency.
Changing the MTU size on Windows 7 and 8 machines improved browsing and download performance, too. Perhaps more tweaks to the network settings would improve overall speed consistency.
Wi-Fi range extenders, such as those from Netgear, Belkin and Logitec to name a few, can be added to boost the smartphone's in-home Wi-Fi signal strength to reach a second floor or into the back yard.
Verizon Wireless subscribers with unlimited data plans who can cut the "wired internet cord" can save a lot of money by eliminating the monthly wired internet expense and excess data charges.
Verizon does not publish an average wired internet usage statistic. AT&T does, though - 17GB per month. The two columns compare the Average AT&T wired internet usage to the AT&T average plus one additional hour of streamed video per day using the Netflix medium video quality data usage rate of 0.7GB/hour. More than $3,150 per year could be saved by customers streaming one hour of video per day.
Another reason to keep an unlimited data plan is that the next generation of LTE will be even faster. This new LTE, called IMT-Advanced in specifications by the International Telecom Union, will boost wireless internet to 1Gbps in low-mobility applications and to 100Mbps in high-speed applications on trains and in cars. IMT-Advanced LTE is still in test with no firm deployment date, but when it does arrive it could compete with Verizon Fios.
For any given household, there is no way of predicting if Verizon Wireless's LTE could replace wired internet. It clearly can if the local LTE antenna has a strong signal and is not congested, especially compared to DSL. This test proved that 6Mbps downloads are achievable, but that figure falls short of the national average of 18.2 Mbps, according to research firm Ookla. The only way to know for certain is to test it.
It's clear that a Verizon Fios Quantum customer with 500Mbps download and 100Mbps uploads won't be satisfied after cutting the fiber cord and replacing internet service with LTE. Before relinquishing an unlimited data plan, try Verizon Wireless's Data Usage Calculator and see how easily you can exceed 6GB of data per month.