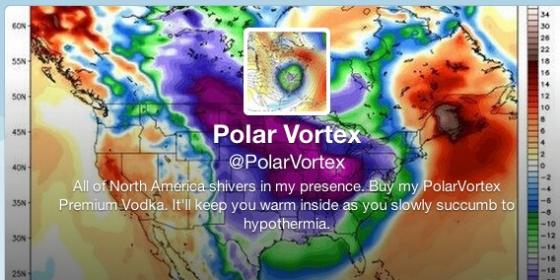 An eagle-eyed weather watcher -- or slick marketer -- set up a Twitter account under the handle @PolarVortex last week, before the arctic air mass really began grabbing headlines, and is now telling social media users what the weather system really thinks, sometimes in NSFW language.
(Note: The account was originally listed as suspended when I tried to access it, but then it worked again...)
+ ALSO on NetworkWorld: The Best of CES 2014 consumer electronics show +
Among other things, PV revealed it was "bored off my ass, and suddenly it hit me. ROAD TRIP." So that helps explain what a lot of these meteorologists have been unable to spell out in plain language. PV also took on the mainstream media as well as climate change skeptics, including Rush Limbaugh, who reportedly called the Polar Vortex a hoax.
PV hit close to home on one of its early tweets, for those of us living in the Boston area:
Polar Vortex to Boston: I'm taking bets on who wins each of your silly fights over a shoveled out parking space.
— Polar Vortex (@PolarVortex) January 4, 2014
Fortunately or unfortunately, depending on how you view it, the Polar Vortex has yet to take any huge toll on technology. In fact, smartphone users are predictably documenting the big freeze without restraint.
I can't wait for the "polar vortex" to get here so I can post iPhone screenshots of the temps. #socreative
— Paul Richardson (@RunningJoke) January 6, 2014
In case you wondered, @PolarVortex follows in a long line of weather-related Twitter accounts, many short-lived, such as @HurricaneIrene, retired in August 2011, and some like @TyphoonHaiyan that appear to be more earnest than others.