Jelly, the new iOS and Android app from Twitter vets Biz Stone and Ben Finkel, is designed to make it easier to bug your friends and the rest of your social network connections (and their connections) for answers on the fly.
The free Q&A/search app, a new challenger to programs like Quora, Ask.com, Yahoo Answers and even Google, puts the emphasis on asking questions involving images. Not that you couldn't also ask questions on Quora or even Twitter or Facebook that involve the use of images...and yes, by the way, people are asking questions about Jelly on Quora.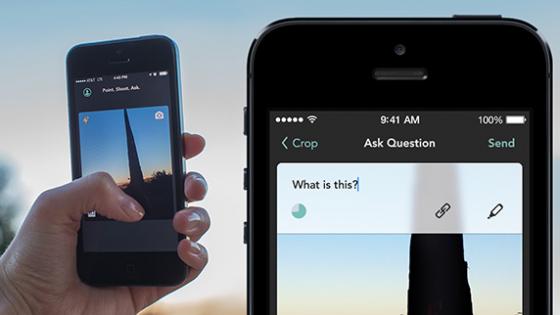 Once you download the app, you are forced to connect it to Twitter or Facebook and you want to proceed. I chose to connect to Twitter since I like to spare my Facebook friends from work-related experiments. Ironically, the Twitter connection started with a glitch for the first hour or so that I tried to use the app. Kept getting an error message and I wasn't alone: Others fussed on Twitter and Jelly in fact tweeted out that it was "experiencing some rate limiting problems with Twitter authentication..." Ouch.
Anyway, assuming you do get the app to work, you are first hit up with a screen inviting you to "Point. Shoot. Ask." You snap a photo, can crop it by using your fingers, then can pose a question related to it.  Say you come across an unusual site while walking around your community: snap a photo and ask via Jelly if anyone knows what the heck it is or knows anyone who does. 
Stone, in a video on the company's site, says the company was founded on the belief that people want to help each other. According to Jelly: "We chose the jellyfish to represent our product because it has a loose network of nerves that act as a 'brain' similar to the way we envision loosely distributed networks of people coordinating via jelly to help each other."
+ Which Celebrities are Checking Out CES 2014? +
I gave Jelly a whirl by taking picture of a bizarre old vendor tchotchke item in my office, asking if anyone had come across any weirder one. Probably not the ideal use for the app, but the questions I saw posed ran the gamut from "Who is this guy?" to "Does Jelly remind you of a slightly new take on ChaCha? (another Q&A app)" to "Is this place any good?", referring to various coffee shops, etc. So pretty much anything goes.
The questions, some from the founders' buddies and investors, seemed to pop up kind of randomly, though I assume there will be some sort of vetting process as things go along. You can flag questions as inappropriate or indicate that they don't like them, which I assume will inform the algorithms of which sorts of questions you might find relevant. Some questions already had dozens of answers, so I assume there was a bit of "seeding" going on to help give the app some traction.
The interface features question cards that bob around kind of like a jellyfish, and are moved this way and that by swiping. If you can't answer a question yourself but know someone who might, you can forward the question to people whether or not they are using Jelly themselves (via email or SMS). If you're interested in seeing what answers a question elicits, you can "star" it and be notified when answers emerge.
Overall, it's an intuitively easy app to use. I wasn't immediately finding a lot of compelling reasons to use it in the office, but could see myself revisiting it once I'm back out in the wild and wondering about something I come across. In fact, I've resorted to Reddit frequently of late for questions related to identifying images.