The Internet is generally of two minds regarding the alleged "shortage" of Velveeta: Some, like me, smell a cheesy PR stunt, while others see nothing more than an opportunity to tweet up a batch of gooey snark. Here's a taste of the latter: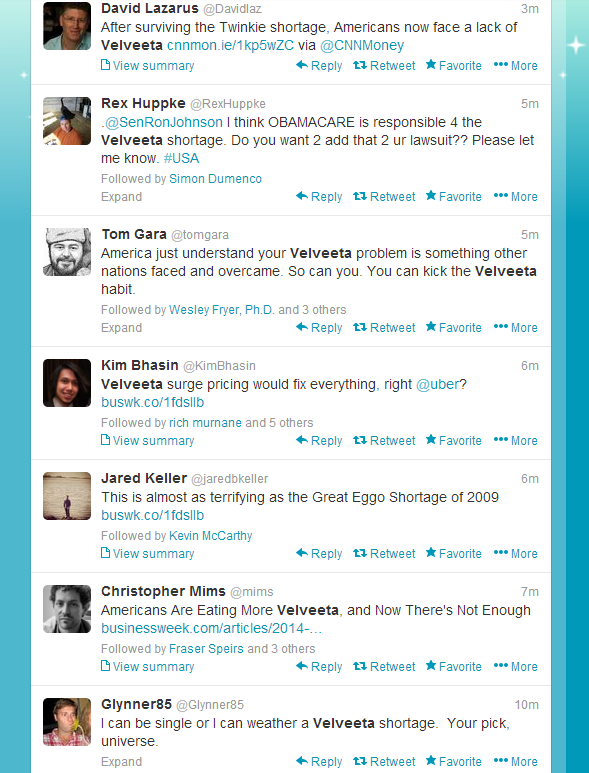 As for those who see globules of shenanigans in this alleged supply dip? Here's an exchange from Reddit that includes a question I will help answer:
Skeptic  No. 1: It seems so obvious to me. The Reuters article even said that the "shortage" was first mentioned in Adveritising Age quoting an unnamed grocer at an unnamed store that said they weren't getting another shipment until February. None of the articles, which seem to be in every single news venue, mention a reason for any kind of shortage.

Skeptic  No. 2: My question is how do they get these news outlets to run this blatant advertising as news? Do they pay these outlets to run these stories? If they do, wouldn't they have to say it's an ad and not part of the news? If they're not paying for it how can a business become eligible for this wonderful asset? I'd like to think that if I owned a business every single media outlet within reach of my customers would help me out by just blatantly giving me free advertising and creating incentive for my customers to buy from me.

Skeptic No. 3: Maybe it's mutually beneficial for both Velveeta and the journalists. The thought of a shortage of a popular product like this draws readers in and creates a story, even where there may not be one.
Ding, ding, ding: No. 3 is your winner, as much as I sometimes wish No. 2 was correct and I could expect to see nice fat check from Kraft Foods for addressing this subject myself.
Your typical journalist can no more resist this tasty morsel of a "story" than they can a plate of nachos.