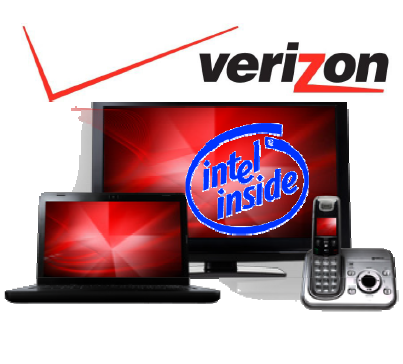 Imagine Verizon as a mobile disrupter. Verizon's score of strategic video-streaming technology from Intel earlier this week might make it exactly that. Intel Media and its OnQue HD TV platform that it bought will extend its reach on the ground and in the air. Verizon's move emphasizes the importance of 4G LTE.
OnQue will improve the performance of Fios's cable TV-like television offering, extend its television services where it does not have infrastructure using Intel's Over-The-Top (OTT) technology, and create a completely new wireless entertainment experience.
Verizon's Advantage: It has the Networks and the Contracts with Big Television Media
In 2011, Intel hired Erik Huggers, BBC's director of future, media and technology, to run Intel Media. During his tenure, Intel built an incredibly efficient infrastructure for delivering OTT TV designed to deliver television broadcast content over the internet. Although Intel was able to deliver the technology proven in a large trial, it could not sign profitable agreements with the television content networks such as ABC, CBS, FOX, HBO, NBC and TNT to deliver their content with its OTT TV service. Intel also couldn't devise an OTT television service that could convince consumers to replace the television component of their bundled triple-play television, telephone and internet service from cable providers such as Comcast or Time Warner.
Verizon has the missing pieces to succeed with OnQue. Verizon Fios and Verizon Wireless already have agreements with the television content networks. It already has about 5 million television customers on its Fios network. According to cable industry group NCTA, Verizon ranks fifth in total subscribers.
OnQue is a Competitive Advantage for Verizon
But Verizon's cable-like Fios business is land locked. Both Fiercetelecom and DslReports have reported that Verizon's rollout of Fios has stalled. The rollout could have stalled because of cost or difficulty obtaining local regulatory approvals to build-out fiber optic infrastructure, or both.
The FCC has approved Verizon's acquisition of the 45% of Verizon Wireless that it does not own, effective this February. This will give it the ability to bundle television with Fios, OTT and mobile data services.
If Verizon can extend its agreement with the television content networks to include OTT services and mobile data services, it will have the competitive advantage that Intel lacked, and can convince consumers to replace the television component of their bundled triple-play television, telephone and internet service from cable providers.
Consumers are increasingly moving away from landline telephones. The Wall Street Journal reported that about two-thirds of households led by people ages 15 to 29 relied only on cellphones in 2011, compared with 28% for the broader population. Bundled unlimited voice minutes with OTT TV services by Verizon could be the carrot that Intel lacked to convince consumers to cut telephone and television from their cable company's bill and switch to internet-only services. This will expand Verizon's TV services footprint throughout the entire internet-connected United States.
Beyond Fios and OTT, OnQue can Deliver HD TV over 4G LTE
Verizon's 4G LTE service is as good as cable internet service in many parts of the country, and better than DSL. With the cooperation of the television content networks and bandwidth-efficient OnQue, Verizon can deliver HD TV over LTE. This probably would clog Verizon Wireless's current infrastructure and woyuld require more than a little network engineering, but the next generation of LTE, LTE Advanced or LTE Rel-1,0 is specified to deliver 1-Gig download speeds to stationary devices and 100 Mb to devices moving at high speeds in trains and cars.
Verizon Wireless's monthly data limits will need to change, though. In its June 2013 Cross Platform Report, Nielsen reported that the average consumer watched more than 157 hours of traditional television per month. According to Netflix, one hour of HD TV consumes 1 Gb of data. Even if OnQue can compress this to be 10 times smaller, with a 6 Gb monthly data limit the average consumer using LTE as a HD TV access network would pay $100 per month in data plan overage charges at $10 per Gb.
OnQue Technology: A Better UI and Access Network Savings
OnQue was tested in a deployment to 3,000 households. It breaks from the antiquated system of one, two or three remotes that consumers use to control televisions and change channels with an intuitive content navigation and television content selection user interface. And it can deliver HD TV over a narrow 3 Mb DSL internet connection, so it will reduce network congestion in the transport and access networks for Verizon.
OnQue is designed to be installed by the consumer, without sending a technician to the consumer's home, which the communications industry calls a "truck roll." Truck rolls are difficult to schedule with the consumer and expensive to deliver. Replacing the access network with other internet service providers' networks or LTE with a user-installable HD TV service will give Verizon both a cost and operational advantage. When LTE Rel-10 moves beyond the current test stage, it could be much less expensive than fiber or CATV cable access networks because the only truck rolls will be to maintain equipment on and connecting to the tower.
Price competition won't be part of Verizon OnQue's disruption because the television content networks won't want to spark too much price competition between Verizon and cable and satellite TV and cannibalize this $200 billion business.