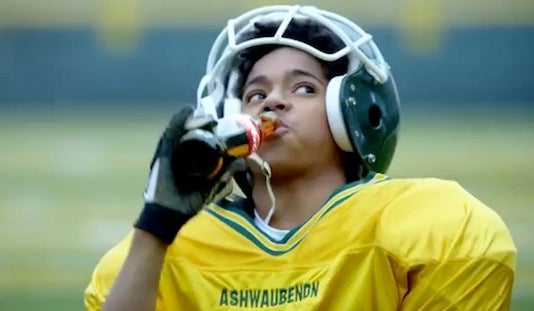 The era of the Super Bowl commercial is over.
While checking in on Twitter during yesterday's Super Bowl, I was struck by how many tweets expressed dismay at what was clearly an underwhelming assortment of commercials. Indeed, having watched every commercial this year, none were particularly mind-boggling.
Which is strange, because one of the enduring allures of the Super Bowl, at least for those without a rooting interest in the game, has always been the commercials. Impressive commercials, however, seem to be few and far between these days on Super Bowl Sunday.
Indeed, Joshua Topolsky of The Verge tweeted out at one point that all the nostalgic references in various Super Bowl commercials means we're "running out of ideas."
The sheer level of nostalgia in ads tonight suggests we may be running out of ideas.

— Joshua Topolsky (@joshuatopolsky) February 3, 2014
In case you missed it, some of the 80s references we saw yesterday included Hulk Hogan, Back to the Future, The Muppets, and Full House.
Now, I don't necessarily think that we're out of ideas. On the contrary, we're living in the most media-rich era in history. In light of that, every day we're bombarded with more media content and advertising than one can possibly consume in a lifetime. Consequently, viewers on the whole may not only be more numb to advertising, but the bar for what constitutes "interesting" is higher than it's ever been before.
From Facebook to Buzzfeed to Reddit to any number of viral videos or pictures, people today don't suffer from a lack of creative content hitting their respective news streams. From crazy video stunts to heartwarming clips of dogs greeting soldiers returning from war, people aren't in want of cool content.
I say that to say that Super Bowl commercials are underwhelming because we're getting our creativity fix across a diverse set of media on a daily basis. In other words, there are so many more avenues these days for companies to get their message and brand identity out into the universe. The Super Bowl is no longer the end-all-be-all. And again, the bar for what constitutes "great" has risen rather significantly on account of this media-saturated world we live in.
So, with that said, the odds that on Super Bowl Sunday, on this one specific day, we're going to see the most creative advertisements we've seen all year are pretty slim.
Yet for some reason, people's expectations in this regard remain high.
What's also strange is that companies continue to dole out huge bags of cash for Super Bowl airtime, this in spite of the fact that recent studies have shown that the $4 million or so that advertisers now pay for a 30-second Super Bowl slot doesn't really leave a lasting impact.
The Baltimore Business Journal reports:
The fact is that commercials are no longer effective as they used to be. Everyday consumers are exposed to over 3,000 ads ranging from car insurance to basketball shoes. Consumers have learned how to ignore the constant barrage of ads and they are looking for companies that offer real solutions instead shocking them with humor.

The way potential customers look for companies has changed in today's digital age.
I can't help but think that the company's investing in Super Bowl commercials today do so just because they can, because they have been indoctrinated to believe that the Super Bowl is, was, and will always be the epitome of advertising.
The advertising landscape has changed immensely over the last few years, and I can't help but imagine that those millions might be more efficiently used somewhere else.
What's more, while a Super Bowl slot may cost $4 million to run, remember to factor in hundreds of thousands of dollars in production costs that go along with it. Not to mention paying for celebrity talent, which seems to be an increasingly popular advertising strategy for the big game.
Indeed, with creativity for Super Bowl commercials seemingly in short supply, many companies play it safe by simply paying celebrities boatloads of cash to get them to don some make-up, smile before the camera, and advertise the most random of products.
Case in point: Lawrence Fishburne reprising his Morpheus character from The Matrix to star in a bizarre car commercial for Kia. Or Bruce Willis and Fred Armisen in a bland ad for Hyundai. Or, there was that Chobani Yogurt ad featuring background music from Bob Dylan - that couldn't have come cheap. And, oh yes, let's not forget a Chrysler ad starring Bob Dylan himself.
Consider this: The company that seemingly garnered the most attention during last year's Super Bowl didn't even air a commercial, they simply sent out a tweet. I'm of course referring to Oreo, which was quick to send out a tweet referencing the blackout that occurred during last year's game.
The reality is that Super Bowl commercials just aren't that important anymore. It's important in the sense you can get your brand in front of millions of viewers who are actively watching, in part, to see the commercials. But from a creative standpoint, the Super Bowl is no longer a repository for the best ads one is going to see throughout the year.