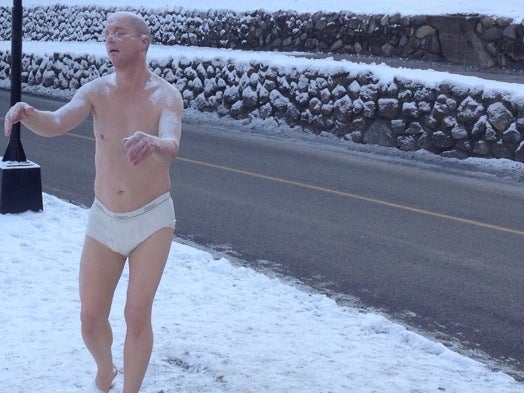 UPDATE: Feb. 4):
The story of this statue -- and the reaction of some Wellesley College students to it -- has gone viral on the Internet and news stations.
A Wellesley College student started a petition on the Change.org website to get the statue moved inside. The Change.org petition, launched by student Zoe Magid, is addressed to Wellesley College President Kim Bottomly and Davis Museum Director Lisa Fischman. It's titled: Remove the uncomfortable and potentially triggering statue put up without student consent. 
Fischman responded to the student criticism here. She wrote that "As the best art does, Tony Matelli's work provokes dialogue, and discourse is at the core of education. An open written forum went up in the student center this afternoon to consider some relevant questions, and I invite students to stop by and weigh in. We also welcome your responses online."
Meanwhile, the Sleepwalker has gained a Twitter account and a couple of Facebook accounts.
I cut through Wellesley College's campus on my way to work today and almost swerved off the road when I saw this lifelike sleepwalker posing in the snow at the all-women's school. Maybe I'll start telecommuting from now on.
No doubt a few calls to campus police have been made by now.
But it turns out sculptor Tony Matelli has an exhibit opening at the school's art museum this week.
A snowstorm predicted for tonight in Massachusetts should at least cover the guy up a bit.
Some anticipate a yarnbombing could be in the works to save the guy from exposure.
Don't call campus po: It's just a sculpture by Tony Matelli, part of an exhibit at @thedavismuseum. http://t.co/RUWl3f4VpP

— Wellesley Magazine (@Wellesleymag) February 3, 2014