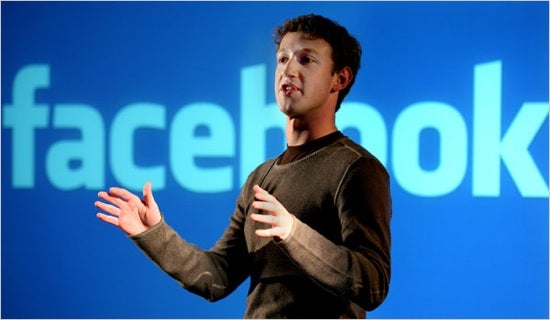 Apple isn't the only company with a January anniversary worth celebrating. In case you missed it, Facebook yesterday celebrated its 10 year anniversary.
I happened to be in grad school when Facebook first launched and, thanks to my .edu email address, was able to hop on board the Facebook train in 2004, just when things were getting off the ground. Famously, Facebook at first was only available to Harvard students, before subsequently opening up for Ivy League students, then any student with a .edu address, and finally, to the entire world. As Facebook continued its meteoric rise to the top, it every so surely displaced MySpace as the top social networking site.
In commemoration of Facebook's 10th birthday, Facebook wunderkid, founder, and CEO Mark Zuckerberg posted a note on his Facebook page reflecting on the milestone.
It's been an amazing journey so far, and I'm so grateful to be a part of it. It's rare to be able to touch so many people's lives, and I try to remind myself to make the most of every day and have the biggest impact I can. 

People often ask if I always knew that Facebook would become what it is today. No way.

...

When I reflect on the last 10 years, one question I ask myself is: why were we the ones to build this? We were just students. We had way fewer resources than big companies. If they had focused on this problem, they could have done it. 

The only answer I can think of is: we just cared more. 
Zuckerberg also makes a point of noting that only 1/3 of the world's population currently has Internet access. Translation? Facebook, going forward, wants to connect the other 2/3 of the world to those already online.
Now one of the cooler user-centric things Facebook did to celebrate 10 years of poking and unauthorized background checks (I kid, I kid) was to launch a video feature dubbed "Look Back" which automates a nostalgic look back at each user's Facebook history. It's accessible by visiting www.facebook.com/lookback. The "Look Back" video begins by displaying when a user first joined Facebook and then proceeds to display a user's "first moments" on Facebook along with snapshots of uploadedp hotos and their most liked posts. All in all, it's a nice look back.
Though there has been some talk of Facebook going the way of MySpace in recent years, it really doesn't seem that Facebook is going anywhere. Unlike MySpace, Zuckerberg and co. appear to be more agile and more willing to adjust to any shifts in the social networking landscape.