The aviation industry is full of communications technology and now there's a Web site that capitalizes on this by answering the question "I wonder what that plane is over my house?"
Yep, flightradar24.com was created to answer that vitally important question and it does so with what can only be described as "panache."
Flightradar24 is a glorious mashup of Google maps with FAA data (delayed by 5 minutes) and real time data from data sent via automatic dependent surveillance-broadcast (ADS-B) transponders on aircraft (this technology is used on 70% of European aircraft and 30% of US aircraft) and Multilateration (MLAT) detection. While that includes a huge number of aircraft there are many that aren't visible on Flightradar24 (see the site's FAQ for a more detailed explanation of the technologies and which aircraft are and aren't included).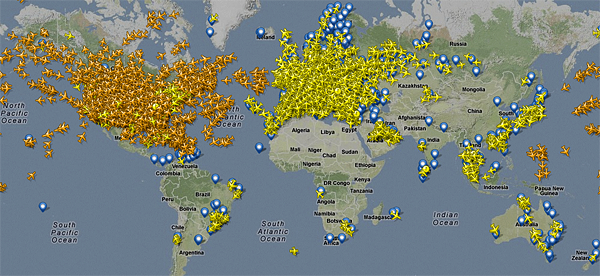 You can zoom in and out to focus on any region you please, click on the planes to get whatever data is available on the particular flight including it's flight path and even see a simulated 3D view of the plane in flight or the view from it's cockpit.
You can remove the not particularly intrusive adverts, avoid the timeout that means you have to reload the site occasionally, enable alerts, get a radar view, and more for a measly $2.99 per month or, If you're really nerdy about aircraft, you can set up an ADS-B receivers (for under $20) and contribute data to get the premium service for free (you can also host free ADS-B equipment).
Now if Flightradar24 could just tell me where the black helicopters come from and the name of the Vague, Yet Menacing, Government Agency that flies them and has put trained spiders all over me the service would be perfect. 
Reveal all below or to gearhead@gibbs.com then follow me on Twitter, App.net, and Facebook.