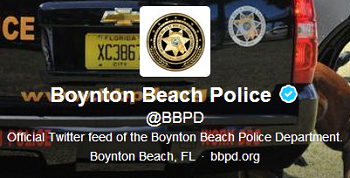 How you feel about this particular application of technology to police work will likely depend on how you feel about Twitter.
From the South Florida Sun-Sentinel:
Starting Tuesday, Boynton Beach police officer Ron Ryan will live tweet whatever he encounters on his nightly shift. It could be a gun crime, a robbery or a domestic dispute - if Ryan is there, you can be there, too.

Well, virtually there, anyway.

The unusual move of using a working officer to send short messages to those who follow him on the Internet is part of Boynton's push to use social media to better connect with residents. Ryan will tweet under the @BBPD username with the department's hashtag #ridewithBBPD.
I'd be shocked if Officer Ryan is the first to chronicle his every happening on a police shift in 140 or fewer characters. After all, police departments have been using Twitter since the trailblazers in Wellesley, Mass., tweeted on June 8, 2007, according to this infographic from ConnectedCops.net, a site run by an "interactive media professional."
Boynton Beach is a smallish city of 60,000 and Wikipedia's only mention of crime there involves gang trouble, but having twice spent nights riding with Massachusetts police officers as a reporter I can tell you that it isn't always exciting. Had Twitter been around then:  
Turning onto Main Street ... onto Chestnut ... onto Roosevelt ... onto South ... #ExcitingHuh
No, I'm not at Dunkin Donuts #GotThatOutOfTheWay
Hypothetical only: Why can't they ever just come out with their hands up? #WorksOnTV
MT @GrampyJones 1-Adam 12, 1-Adam ... (Very funny, Grandpa.)
Keep in mind that this is a Tuesday night. Any Saturday and I'd hardly have time to tweet ... really.
I assume things will be busier for Officer Ryan and the department's 6,771 Twitter followers tonight.
And if you're concerned that the Boynton Beach PD might be sending a mixed public safety message: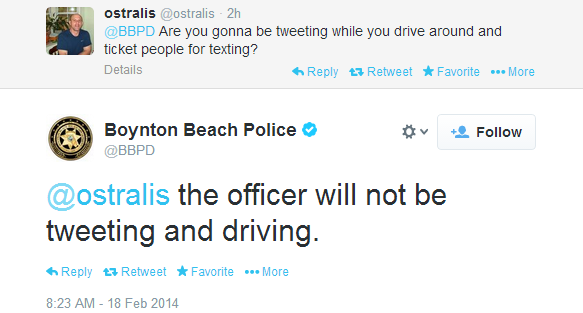 Glad we got that cleared up.
(Update: How could I have forgotten this item I wrote about a police department's use of Twitter after an escape of lions, tigers and bears from an Ohio animal reserve? In that case it seemed that 140 characters wasn't quite enough.)
Welcome regulars and passersby. Here are a few more recent buzzblog items. And, if you'd like to receive Buzzblog via e-mail newsletter, here's where to sign up. You can follow me on Twitter here and on Google+ here.