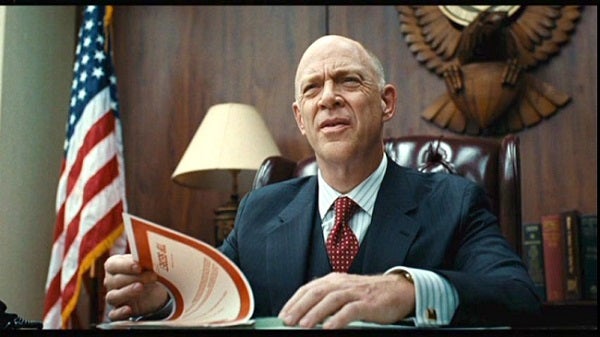 Imagining the six-month internal Nokia/Microsoft review of the Nokia X brings to mind the conversation at CIA Langley headquarters between CIA bureaucrat Chubb and his aid Palmer from the last scene of Burn after Reading.
CHUBB: What did we learn, Palmer?

PALMER: I don't know, sir.

CHUBB: I don't [explicative deleted] know either. I guess we learned not to do it again.
According to CNET's Luke Westaway, reporting today from the Mobile World Congress 2014 in Barcelona, the Nokia X is "powered by Android but you would not know it…It looks a lot like the Windows phone that you find on Lumia phones."
If that's the result, then what's the point? Android developers aren't looking for a new set of user experience principles to follow or yearning to develop for a new user interface. If they were, they would be developing for Windows Phone in the first place. Never mind how the Nokia X smartphones will be compared with Android and Windows Phone in the media; how will it be compared by the consumer in the phone store?
It's cheap. The Nokia X is available for $122 without contract and has a 4-inch WVGA display (800 x 480 resolution), 1GHz dual-core Qualcomm Snapdragon processor, 512MB of RAM, 4GB of storage, microSD support, and a 5-megapixel camera. It is clearly an entry-level device designed to be the consumer's first upgrade from a featurephone in developing markets. It's also apparent that Microsoft has segmented the market for the Nokia X so that it only competes on spec with its entry-level Windows Phone the Lumia 521, priced without contract in the U.S. at $128. But the consumer buying the 521 gets a better camera and a free Micro_SD slot.
Nokia described it as a "three-way mashup" of Android, Windows Phone, and Symbian, so it is not a choice for the consumer who liked the experience of any one of these systems. Without a path to one of the platforms comprising the mashup platform, it's not clear what Microsoft's customer acquisition strategy is.
The Nokia X does have some of Microsoft's cloud apps preloaded, such as Skype, OneDrive, and Maps. Nokia should have led with this in its announcement. This is a potentially a smart customer acquisition strategy. Once customers sign in with Microsoft email and start to compile a life's worth of email, messages, and photos in Microsoft's cloud, they are to a certain extent "locked in" without a personal investment to convert and move their data and identity to Android or iOS.
So why wouldn't Nokia deliver stock Android KitKat on low-priced and amazing Nokia hardware that would attract those familiar with Android? That would be a great way to convert consumers' love for their old Nokia featurephones. I recently posted a picture of the my old Nokia 6610 to Facebook and received 37 comments from Android and iOS user friends who shared fond memories about what the 6610 meant to them at that point in their lives.
Westaway also reported from Barcelona that, "Android developers will have to tweak their apps if they want them to be available on the Nokia X."
There is little to motivate developers to create, support, and maintain separate versions of apps for Windows Phone in addition to Android and iOS, much less the Nokia X mashup OS.
The Nokia X doesn't fit into any usefully comparable category. Six months from now, Nokia and Microsoft will know how many it shipped but little else to guide it going forward. Because it is a mashup and not recognizably Android, Microsoft and Nokia won't really know how much of a factor its preloaded apps were to attracting consumers, and given its entry-level hardware it won't be able to compare experienced Android consumer preferences for a Nokia-built Android smartphone with its preloaded apps.
"Ceteris paribus," meaning "with other things the same," is the scientific principle of measuring results after changing just one factor at a time. The Nokia X mashup OS is a second factor to Nokia/Microsoft's entrant in the Android market. The omission of complete compatibility with Android apps is a third factor, and segmenting the Nokia X into the isolation of emerging market economies is a forth that obfuscates the measurement of consumer preference for a Nokia/Microsoft-branded Android smartphone.
Six months from now, Nokia will Microsoft will conclude like Chubb, except this time the expletives might not be deleted.