This headline could not be more misleading. And, knowing my business as I do, it's all but certain that the failure to communicate is a byproduct of the headline writer's inability to resist the word "sexting."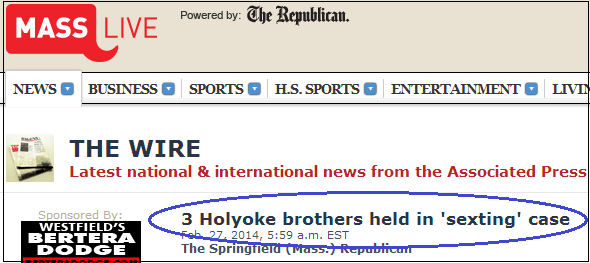 Reading that headline the first time, I made an assumption that I believe would be all but universal: This is another story about hormone-ravaged young people - notably three brothers -- getting into trouble with their mobile phones. Not at all. From The Springfield (Mass.) Republican:
Police say three Holyoke brothers are facing charges for using a baseball bat to beat a man they say texted an explicit photo of himself to their mother.

Police say 41-year-old Jacob Rodriguez; 44-year-old Israel Estrada; and 43-year-old Felix Estrada, were charged Wednesday with assault and battery with a dangerous weapon. Rodriguez is also facing drug charges.
So this story is about "sexting" in the same way that the slaying of Trayvon Martin was about hoodies.
There will be those who believe that the beating victim deserved what he got. Life's too short to try to dissuade them, but they will include few who know how easy it is to spoof a phone number or an email address ... or simply understand the dangers of vigilantism in a civilized society.
And, of course, sexting is a real problem. As the father of three 12-year-olds, I have done my share of talking about the risks.
Bottom line, though: This story is about three men in their forties who allegedly took the law into their own hands and beat a man with a baseball bat. That their reported motivation was a texted photo is merely incidental.  
Welcome regulars and passersby. Here are a few more recent buzzblog items. And, if you'd like to receive Buzzblog via e-mail newsletter, here's where to sign up. You can follow me on Twitter here and on Google+ here.