It always seems that when I get a good idea it needs a diagram and this usually happens when I'm out and about rather than near my desktop and my usual drafting tools. On my iPad I've got several art apps that are great for sketching and painting but diagramming is an entirely different proposition. Or, at least, it was until I found Grafio - Diagrams & ideas published by TenTouch.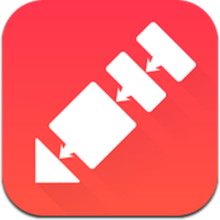 Grafio is very clever … when you draw a circle, square, triangle, etc., to some level of accuracy (drawing on trains, planes, and automobiles usually reduces your draughtsmanship significantly) and Grafio's shape recognition is switched on it recognizes your intent and replaces your wobbly outline with a symmetrical, cleaned up version (see the video below). Similarly you can draw lines or arrows between shapes by drawing from the center of one shape to another and Grafio inserts a line from the edge of the starting shape to the edge of the ending shape.
Grafio also cleans up any lines that aren't recognizable as shapes so that lines are straight and curves are smooth. You can add text to any shape (whether closed or not) by double clicking while a single tap selects the shape and provides buttons for deleting, duplicating, changing, copying styles, and adding voice notations while another tap provides handles for changing size and stretching.
There are libraries of shapes (some are free while others are optional purchases) and you can import photos from your camera roll.When it comes to exporting Grafio is something else. You can send your document by email, print, copy to iTunes, upload to DropBox, open in other apps, or save as a video with the object you've drawn being sequentially added in order (you can select the delay between additions) and have the audio annotations included as the soundtrack.
This is an incredibly ambitious and well-thought out app. Priced at $9.99 and compatible with both the iPhone and the iPad it's so good you might find yourself using Grafio for diagramming even when you're at your desk. Grafio - Diagrams & ideas gets a rating os 5 out of 5. 
Draw your conclusions below then follow me on Twitter, App.net, and Facebook.