Microsoft has a hefty research arm, with offices in Seattle, Silicon Valley, and other parts of the world. In these little oases, a whole lot of PhDs work without the stress of bringing a product to market on projects that aren't just iterations of existing products, but whole new products and ideas.
And unlike its competitors, Microsoft isn't shy about showing these projects off well in advance before they ever hit the market, which is pretty brave if you think about it. I've seen projects that never made it to market, while others have become major products, like Bing.
The company has just taken the wraps off SurroundWeb, research prototype to display webpages on multiple projectors to display information on the walls of the room you are in. Microsoft describes SurroundWeb as "a 3D Browser that displays webpages across multiple surfaces in a room, adapt their appearance to objects present in that room, and interact using natural user input."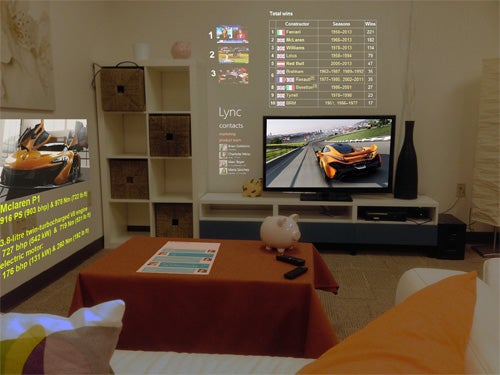 A Room Skeleton is rendered using the Kinect motion sensor from the Xbox. It scans the room to see what kinds of surfaces are available and what areas are not, such as windows or art on the walls. Next, SurroundWeb learns what projection equipment is available, such as just a monitor, projects, phones, and anything else with a display.
If a projector is found, then SurroundWeb can go to work. The monitor shows the main presentation information while the projector shows additional content "spilling out" of the slide and onto the wall of the room. Phones can be used for interacting with the content and you can use the Kinect's hand-gesture support as well.
Microsoft states rather clearly that it is sensitive to privacy concerns around scanning the room. "From mobile phones, we have learned how dangerous it is to give devices unrestricted access to sensor output ... Similarly, from raw video and depth streams inside a home, it is likely possible to infer economic status, health information, and other sensitive information. Therefore we do not want to expose raw sensor data to webpages," the researchers said in their paper.
They also still have some work to do when it comes to scanning the room. That's still a little on the rough side, and it often needs human intervention to identify objects, like chairs, so they are not used for display.
There's no guarantee this will ever make it to market, but it sure would be neat if it did. You can read all about it at the Microsoft Research site (PDF).