I don't recall ever hearing about as many disastrous sinkholes as I have in the past couple of years - the most recent swallowing up a bunch of Chevrolet Corvettes in a museum in Kentucky.
The trend no doubt hasn't been lost on the country's best and brightest scientists and NASA for example now says it has evidence that using one of its aircraft-deployed radar systems it can foresee sinkholes before they happen, decreasing danger to people and property.
 +More on Network World:  NASA revels in "Gravity"+
Researchers from NASA's Jet Propulsion Laboratory (JPL) said they analyzed airborne radar data collected in 2012 that showed the system known as interferometric synthetic aperture radar (InSAR) had detected indications of a huge sinkhole before it collapsed and forced evacuations near Bayou Corne, La.
JPL researchers Cathleen Jones and Ron Blom said InSAR detects and measures very subtle deformations in Earth's surface - basically by bouncing signals off the ground and measuring the differences in the phase of the waves returning to the aircraft or satellite depending on what system is being used.
The JPL researchers said that their analyses of pictures taken around the Bayou Corne site showed the ground surface layer deformed significantly at least a month before the collapse, moving mostly horizontally up to 10.2 inches (260 millimeters) toward where the sinkhole would later form. These surface movements covered a much larger area -- about 1,640 by 1,640 feet, (500 by 500 meters) -- than that of the initial sinkhole, which measured about 2 acres (1 hectare).
"While horizontal surface deformations had not previously been considered a signature of sinkholes, the new study shows they can precede sinkhole formation well in advance," said Jones in a statement. "This kind of movement may be more common than previously thought, particularly in areas with loose soil near the surface."
The Bayou Corne sinkhole formed unexpectedly Aug. 3, 2012, after weeks of minor earthquakes and bubbling natural gas that provoked community concern. It was caused by the collapse of a sidewall of an underground storage cavity connected to a nearby well operated by Texas Brine Company and owned by Occidental Petroleum.
On-site investigation revealed the storage cavity, located more than 3,000 feet (914 meters) underground, had been mined closer to the edge of the subterranean Napoleonville salt dome than thought. The sinkhole, which filled with slurry --a fluid mixture of water and pulverized solids-- has gradually expanded and now measures about 25 acres (10.1 hectares) and is at least 750 feet (229 meters) deep. It is still growing threatening nearby communities and Highway 70, so there is a pressing need for reliable estimates of how fast it may expand and how big it may eventually get.
"Our work shows radar remote sensing could offer a monitoring technique for identifying at least some sinkholes before their surface collapse, and could be of particular use to the petroleum industry for monitoring operations in salt domes," said Blom in a statement. "Salt domes are dome-shaped structures in sedimentary rocks that form where large masses of salt are forced upward. By measuring strain on Earth's surface, this capability can reduce risks and provide quantitative information that can be used to predict a sinkhole's size and growth rate."
While the Bayou Corne sinkhole was likely caused by human activities it occurred in an area not prone to sinkholes, the NASA researchers stated.   The Gulf Coast of Louisiana and eastern Texas sits on an ancient ocean floor with salt layers that form domes as the lower-density salt rises. The Napoleonville salt dome underneath Bayou Corne extends to within 690 feet (210 meters) of the surface. Various companies mine caverns in the dome by dissolving the salt to obtain brine and subsequently store fuels and salt water in the caverns.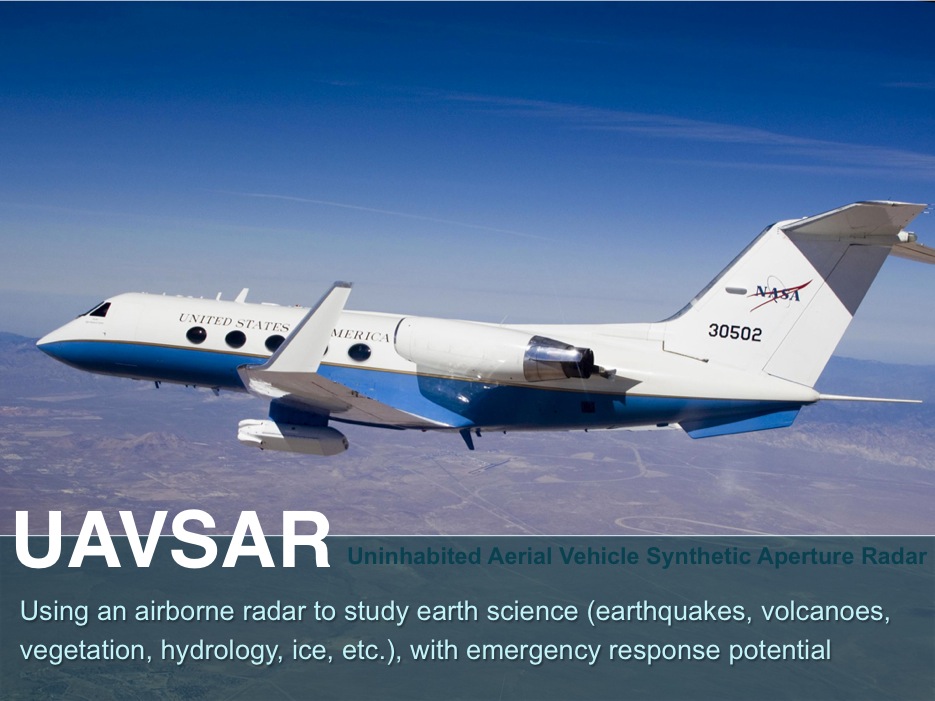 Blom says there are no immediate plans to fly InSAR, which is part of NASA's Uninhabited Airborne Vehicle Synthetic Aperture Radar (UAVSAR) package over sinkhole-prone areas.  UAVSAR is deployed on a pod attached to a NASA C-20A jet.
"You could spend a lot of time flying and processing data without capturing a sinkhole," he said. "Our discovery at Bayou Corne was really serendipitous. But it does demonstrate one of the expected benefits of an InSAR satellite that would image wide areas frequently.
So are sinkholes in fact increasing? An interesting item on Accuweather.com seems to take a conservative approach: "Increased reporting of sinkholes (as the public becomes more aware of them), combined with urban sprawl, may lead to the impression that they are occurring more frequently now than in the past," according to Rick Green, geologist for the Florida Geological Survey.  Human influence has increased, however, Director of the Eastern Geology and Paleoclimate Science Center for the U.S. Geological Survey Randall Orndorff said.  "We have no hard evidence to say for sure that sinkholes are occurring more than they have in the past; however, since human influences such as paving and building in sinkhole-prone areas has increased, it probably follows that we are seeing them more often," Orndorff said.
Follow Michael Cooney on Twitter: nwwlayer8 and on Facebook
Check out these other hot stories:
NASA: Hubble telescope catches asteroid death
US intelligence group wants software to decide who is trustworthy
Jimmy Fallon briefly reviews Microsoft's new mobile phone assistant
Career trends: IBM rolls "Master the Mainframe World Championship"
FTC: Identity theft is the plague of the country
CIA chief: Internet of Things, infrastructure attacks are big security headaches
High-profile US national labs team to build 200 petaflop supercomputers
NASA space photo shows incredible light disparity between North and South Korea
DARPA wants to scrub scourge of counterfeit computer gear
DARPA wants to automate Big Data findings to solve complicated problems