Ethernet is, to say the least, common. It's spread everywhere and when you install it, you obviously need to make sure it's working properly. And even when it has been working properly it will occasionally stop working and you'll need to figure out why.
Traditionally portable Ethernet testing equipment has been expensive so your average tech, systems integrator, or field service operator hasn't had access to the gear they really need and has instead relied on toting around laptops to do the job. Even then, testing has been more or less ad hoc and usually not well documented.
Today, Fluke Networks, purveyors of fine test equipment, launched two new handheld Ethernet testing devices, the Linksprinter 100 and 200. Pocket-sized (4.36" x 1.6" x 1.28") and battery or POE-powered, the LinkSprinters test POE voltage, the speed and duplex state of the connection, DHCP operation, details of the nearest identified switch, gateway accessibility, and cloud connectivity (by which Fluke means they ping Google or whatever target server and port you specify ... the term "cloud" is getting a little too all-encompassing).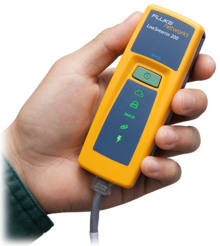 Both models display the status of each test with symbols that light up green for a pass, yellow for a problem, and red for a failure. The difference between the two models is that the 200 has a built-in WiFi access point so your smartphone or pad can show instant detailed results of all tests rather than you having to login to your LinkSprinter account.
The online account can have multiple LinkSprinters registered and logs all your test results. You can have results emailed, annotate them, generate reports, and sort results by time, user, network, or errors. You can also configure any or all registered units from the online account.
I have two minor complaints. First, the Getting Started documentation that that came with the sample Fluke sent me was not how you actually set the product up but it's a small issue and anyone who has a clue what the LinkSprinter is about shouldn't be stymied by the mismatch. The other issue is that the external address of the gateway isn't detected and only the first DNS is reported.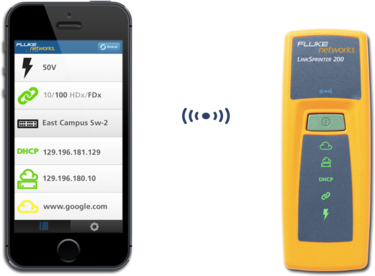 The LinkSprinter 100 is priced at $199 and the LinkSprinter 200 at $299. Tests results that are saved to the LinkSprinter service are priced at $9.95 for 100 tests or $79.95 for 1,000 tests (currently, through May 31, 2014, you get unlimited tests for the first 120 days of ownership).
I'm going to give the Fluke Networks LinkSprinter 100 and 200 a rating of 5 out of 5 for making Ethernet testing not only more affordable but also easier.
Test your connection below then follow me on Twitter, App.net, and Facebook.