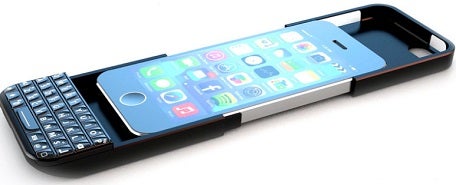 A U.S. District Court last week granted BlackBerry a preliminary injunction against the Ryan Seacrest-backed Typo Keyboard case for the iPhone. Initially reported by Reuters, the Court found that BlackBerry sufficiently proved that the keyboard case design likely infringed the company's patents.
As evidenced above, the Typo Keyboard case would have allowed users to attach an external QWERTY keyboard to the iPhone 5 and 5s. BlackBerry, however, took issue with the design, noting that it "blatantly infringed against BlackBerry's iconic keyboard."
In a statement issued after the ruling, a BlackBerry spokeswoman said:
BlackBerry is pleased that its motion for a preliminary injunction against Typo Products LLC was granted. This ruling will help prevent further injury to BlackBerry from Typo's blatant theft of our patented keyboard technology.
Typo plans to appeal.
A video demo of the keyboard case in action can be seen below.