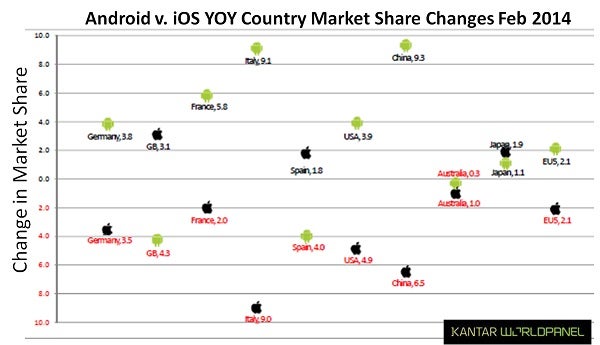 Credit: Kantar Worldpanel
The iPhone is fashionable in part because of Apple's designers and in part because consumers see Apple as an innovator. Tim Cook summed up Apple's definition of innovation in an interview with NBC's Brian Williams a little over a year ago:
"Our whole role in life is to give you something you didn't know you wanted. And then once you get it, you can't imagine your life without it."
But Apple has not done this in a long time – not since January 27, 2010, when it first introduced the iPad. Introducing an innovative new product category generates a wave of public attention that lifts sales of other product categories. A fashion-conscious consumer in the market for a new smartphone is more likely to consider paying a premium for an iPhone if the buzz on social media and in the press is propagating Apple's latest new and innovative product category.
Lately, however, interest in iPhones has stalled. There was not a huge difference between the iPhone 5, announced in September 2012, and the iPhone 5S, announced in 2013. Most notable differences are Touch ID and the M7 coprocessor, which improved motion tracking and made the 5S faster and more accurate in finding locations. The 64-bit A7 mobile processor hasn't distinguished the iPhone 5S in comparison to the iPhone 5's 32-bit A6 mobile processor because no one has found a way to convince everyday consumers how much of an advantage that is.
Earlier this week, Kantar Worldpanel strategic insight director Dominic Sunnebo summed up Apple's dilemma when the research firms released its latest update to its Smartphone OS Barometer:
"In the U.S., Android's momentum has returned after iOS's share peaked as a result of the release of the iPhone 5S and 5C models."
Apple, the most valuable company in the world, isn't yet in trouble, but it is losing both consumer attention and market share. If it announces an iPhone 6 tomorrow that is a substantial improvement from the 5S - not just an incremental improvement like the 5S was in comparison to the iPhone 5 - it will boost market share over a longer period of time than the 5S did. But better yet would be a new category, like a beautifully designed and very fashionable iWatch or other smart wearable device, because it would revitalize the consumer discussion about Apple's innovation. Such discussion would lead more consumers to consider a premium-priced iPhone as their next smartphone.
The pressure from Android won't ease. Android has made great strides since the release of Android 4.1 Jelly Bean. Its ease of use and quality of its features have improved, and Android has nearly closed the security gap. Consumers are distracted by the many high-quality Android smartphones with a broad range of price points and designs. The HTC One M8, the Nexus 5, the Moto X, and the solidly built and economical Moto G are just a few of the many reasons for consumers to consider alternatives before looking for an iPhone.