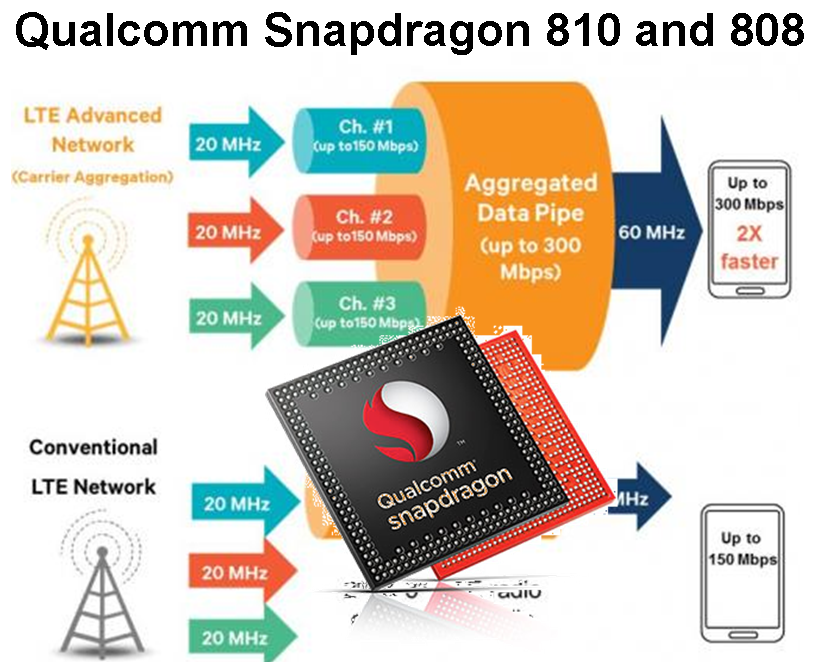 In the context of today's smartphones, it's hard to imagine a 64-bit processor-powered mobile device when 32-bit processors will do the job for most mobile users. The 32-bit processor in most consumers' pockets hasn't reached its limits. A 32-bit processor supports up to four gigabytes of directly addressable RAM. Most smartphones don't use more than one or two gigabytes of RAM, so there is still plenty of head room.
Comparatively, a 64-bit processor supports 16 exabytes – that's 4.3 x 109 times the addressable memory of a 32-bit processor. And a 64-bit processor has 1032 more registers. Without considering 64-bit computing architectures, the Snapdragon 810 and 808 will power mobile devices that are more powerful, communicate with 4G and Wi-Fi networks faster, and render and capture video data better. But Qualcomm has more in plan than just mobile devices, or at least the current definition of mobile devices.
There is no question that these two systems-on-a-chip (SoC) are engineered for high-end mobile devices. Both chips have built-in 4G LTE and support 802.11ac Wi-Fi, Bluetooth 4.1, USB 3.0, NFC, and Qualcomm IZAT location core. Supporting Cat 6 LTE at speeds of 300 Mbps and 802.11ac Mbps also at 300 Mbps, devices using these SoCs can easily broker multimedia and mobile internet traffic between the mobile carrier's network and the Wi-Fi cloud of consumer devices.
The Snapdragon 810 is particularly interesting because it is designed for capturing and rendering UltraHD video at 3840x2160 resolution. Using today's definition of mobile devices, it's hard to understand how high-performance graphics will be appreciated on a small screen when most people enjoy watching Netflix at 1280x720 resolution on large-screen television.
But Qualcomm also sells its 3G, 4G, and Wi-Fi technology to OEMs like Ericsson, who in turn use Qualcomm's chips and technologies to build base stations for mobile network operators like Verizon Wireless. Mobile networks will increasingly compete with the wired internet. Mobile network operators will grow revenue at the expense of the wired internet. These mobile devices built with these 64-bit SoCs communicating with densely deployed 4G LTE base stations will enable the mobile operators to compete directly with wired internet competitors. Mobile web and mobile video won't be constrained to just the mobile device because these devices will easily conscript and interact with other devices, such as UltraHD displays to play 4K videos from smartphones.
But Android is not available for these chips. Other than Intel's recent announcement of a 64-bit port of the Android kernel, operating systems have yet to be ported. Linux 3.7 released in December of 2012 included support for the ARM 64-bit processor, and it's been commercialized. Ubuntu's Linux distro supports HPs Moonshot servers based on Intel and AMD ARM chips. Since Android marged back into the Linux source tree, there are no real obstacles to a 64-bit Android OS.
Looking at a snapshot taken of mobile today, 64-bit mobile processors like the Snap Dragon 810 and 808 and the Apple A7 sound like marketing buzz. Looking forward, as the capabilities of the mobile internet converge with the wired internet, mobile devices that operate with the performance and connectivity speed of desktop devices, high-performance mobile processors will be a necessity.