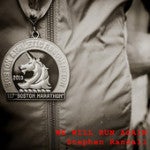 National Public Radio's WBUR has revisited a story it did last May in the wake of the Boston Marathon bombing that featured a Massachusetts songwriter named Stephen Randall who penned a tune called "We Will Run Again."
The reason I make mention of this on Network World is that Randall is a mobile computing pioneer -- a founder of Symbian, Ltd., which offered the world's one-time #1 mobile operating system that grew out of mobile device maker Psion. Among his other entrepreneurial accomplishments: starting a pen-based computing company and designing what he says was the world's first digital guitar.
And because the 2014 edition of the race is this coming Monday.
As for his Marathon-related song, Randall told the NPR news station: "I was so inspired when I heard President Obama say, 'You will stand. You will walk. You will run again,' and as a songwriter I immediately got those words in my head and picked up my guitar and started writing."
RELATED: Geekiest Boston Marathon Scream Tunnel Signs
An interesting twist with this song is that Randall essentially crowdsourced it by inviting people to record themselves singing the chorus and to upload it to SoundCloud, an audio sharing website/app. The song now combines about 90 voices, including those of the Wellesley High School Keynote Singers.
You can download the song on Amazon, iTunes or Bandcamp, and all proceeds go to the One Fund Boston. Take a listen below...