There are many spaces and places where a full size keyboard just won't work. On top of that in many of the same locations there's not room to swing cat let alone a mouse. If you have such daunting challenges in your life consider getting a Rapoo E2700 Wireless Multimedia Touchpad Keyboard.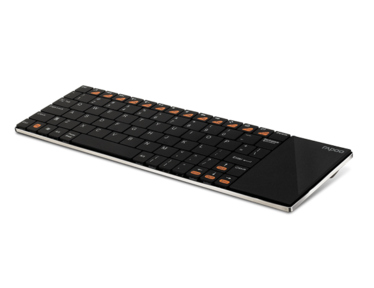 Just 3.25" deep by 10" wide and tapering from 0.75" to 0.13" thick the E2700 has 80 keys which include 13 multimedia hotkeys and a touchpad. The keyboard connects via a 2.4GHz radio link with a range of about 33 feet and comes with a Bluetooth dongle for the host. The key "feel" is a excellent for such a small keyboard.
Powered by two AAA batteries the E2700 has a power saving feature that turns it off after several minutes of no use (I found it convenient to switch the keyboard back on by pressing the left hand Ctrl key).
A nice piece of engineering and very convenient for those tight spaces or for travel. Priced at $49.99 the Rapoo E2700 Wireless Multimedia Touchpad Keyboard gets a Gearhead rating of 5 out of 5. 
Type your thoughts below then follow me on Twitter, App.net, and Facebook.