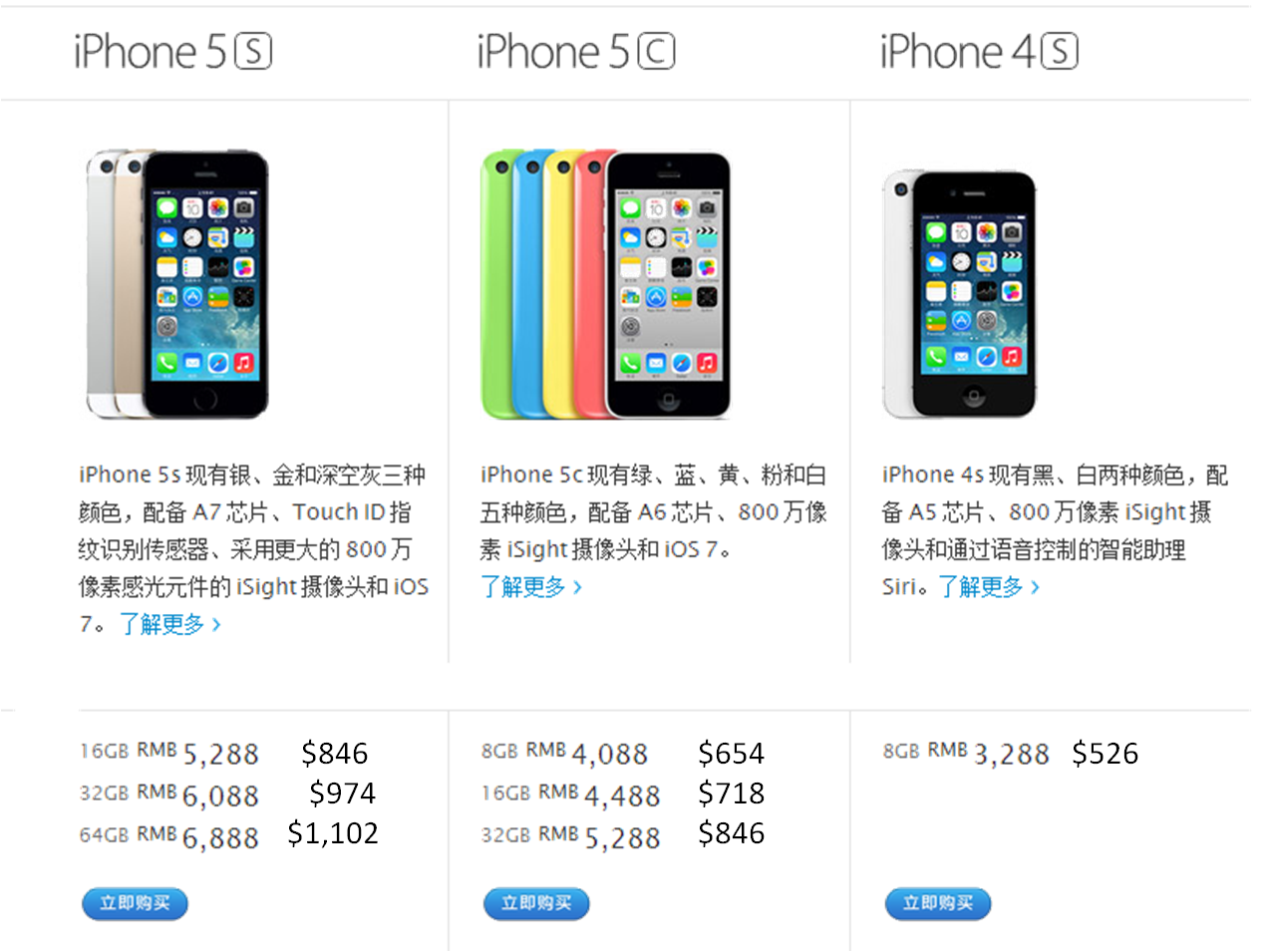 Apple's standout performance in the past quarter was led by shipments of 44 million iPhones. International sales made up 66% of Apple's revenues. Thanks to the company's performance in international markets, it offset market share losses in the U.S. and grew 7 % overall. The company claimed to have performed well in the BRIC (Brazil, Russia, India and China) markets, especially in China, which produced nearly $10 billion of Apple's $46 billion in quarterly revenues and grew 28% percent compared to the same quarter last year. Compared to the first half of 2013, Brazil was up 61%, Russia was up 97%, and India was up 55%.
Apple exceeded expectations measured along every axis except new products. Boldly increasing dividends and share buybacks and splitting the stock while easily beating Wall Street's estimates, Tim Cook made a clear statement that, despite prevailing opinion, Apple was not in crisis because it has not introduced a new product category since the iPad in 2010.
Apple is able to do what no other smartphone manufacturer can do - consistently find customers who will pay a hefty premium for its smartphones. The iPhone prices above are the Chinese retail offering's from Apple's website, converted into U.S. dollars. Except for the iPhone 4S priced at a 15% premium to U.S. retail, Chinese consumers are paying 30% more than U.S. consumers for Apple's brand name.
Throughout last night's call with leading Wall Street analysts, Cook touted Apple's gains in international markets with its entry-level iPhone 4S citing that 80% of 4s buyers were first-time iPhone buyers, as were 62% of those who bought the 5C.
Looking at the iPhone 4s, it is easy to understand how Apple produced great margins and exceeded Wall Street's expectations for profits. The 4S is a 1-Ghz processor smartphone with 8Gb of ROM and was introduced over two and a half years ago. Selling for $526 in China, there isn't much that differentiates it except Apple's brand and an epic contribution to Apple's margins. Comparatively, the Xiaomi Mi3 Android 2-Ghz Quad-core 16 GB ROM with a 5-inch 1080p display is available for just $320.
Apple sells smartphones differently. It focuses its energies on retail. Apple's retail stores give it a channel to create and control the consumer experience; a grand cathedral in each province, so to speak, that are hubs of Apple's brand orthodoxy. An Apple store is a completely different experience compared to visiting a mobile carrier store or Best Buy to pick through a bin of the week's smartphone promotions. Emphasizing this point, Apple will triple its retail stores in its fastest-growing market, China, from 10 to 30, and former Burberry CEO Angela Ahrendts will join Apple's executive team next week. As CEO of Burberry, Ahrendts reversed the brand's decline by increasing its exclusivity. This fits Apple's approach in avoiding competition with Android on price and functionality. Based on Kantar World Panel's measure of market share, Apple places a much lower priority on country market share than it does on growth and profitability.
This was also a very profitable quarter for Apple because none of its products were new, so it was able to optimize its component and manufacturing costs. As confident as Cook's attitude and tone seemed as he engaged analysts, Apple can't defy gravity and delay new product introductions. At some point this summer or fall, Apple will need to revitalize its iPhone with what many have predicted will be large-screen iPhone 6 to keep the attention of its ever-growing audience. This may be accompanied by an iWatch, an iTV, and maybe an Apple fitness band.
Also worth noting is that iPad shipments were flat based on Cook's explanation, or declined based on some analysts' opinions. But in either case, this could mean that the world's expectation of the space between smartphones and notebooks being occupied by tablets may be smaller than anticipated.