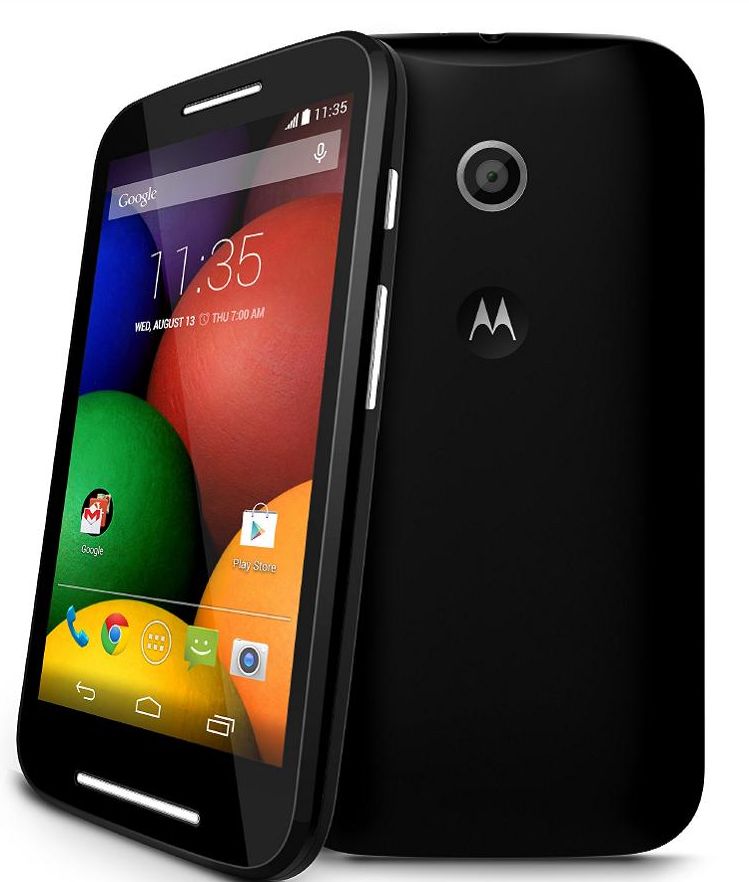 According to Motorola, "70% of mobile phone users in the world are still using feature phones that can't unlock the full wonder of the mobile Internet, in many cases because they don't think it's worth the $337 for a smartphone (the average selling price globally in 2013)."
The Moto E's specs, which boast a Snapdragon 200 1.2GHz dual-core A7 processor, make it a rich-featured, reasonably powered Android KitKat smartphone. It includes a 1980 mAh battery that should be enough for a day's use. One of the price and power budget tradeoffs made by Motorola was to exclude LTE 4G. But for those coming to Android for the first time from Blackberry or Symbian feature phones on a budget prepaid plan, the omission of LTE 4G won't matter. For these consumers, the Moto E will be a great choice for a first fully functional modern smartphone at a near feature phone price.
Motorola also promotes the Moto E as durable. Consumers upgrading from feature phones are used to devices that can withstand harsh treatment - carried in a back pocket, unprotected and frequently dropped. These consumers need a durable first smartphone. A high-end but more fragile iPhone, HTC One or LG G2 wouldn't provide a great user experience for these users, even if these devices could be made affordable.
The Moto E also has a couple of things the Moto X and Moto G do not have. The Moto E has a slot for a Micro-SD card that can add up to 32 GB of ROM memory for songs, videos and photo images. Clearly, targeted to fit the many carrier options, the Moto E has a Dual-SIM option for those global markets where cross-carrier calls are more expensive compared to calls made within the originating carrier's network. Dual-SIM lets consumers switch between mobile carriers to make the lowest-cost calls. Positioning Motorola and its new owner Lenovo to compete in China against indigenous brands, such as Xiaomi and Huawei, the Moto E includes support for the Chinese BeiDou satellite location services.
Coincidentally, earlier today Richard Windsor of Radio Free Mobile posted:
"the growth in the smartphone market is going to be at the low end this year."
Windsor and Motorola are correct - it's a race to put an affordable, durable and economical smartphone into the hands of upgrading feature phone users that will deliver an excellent brand building user experience. The Moto E's inexpensive price point and nearly stock Android 4.4 KitKat make it look like a great feature phone upgrade candidate.
Motorola also announced 4G LTE for the Moto G. Increasing the price by $40 to $219 without contract for the 4G LTE option, the Moto G is a very affordable Android 4.4 KitKat smartphone for budget-conscious consumers who still want high-speed internet. Last March, Kantar World Panel's research pointed to the Moto G increasing Motorola's market share in England because its relatively rich feature set and inexpensive price point resonated with technically savvy consumers who don't want to pay top dollar for a smartphone. The addition of 4G LTE makes the Moto G more attractive attractive to meet upgrading smartphone users.
Motorola's new parent company Lenovo has a strong market position with computers and smartphones in the high-growth markets of Asia, where the Moto E will meet the needs of first time smartphone users and the Moto G is an affordable choice for consumers that want to tap the area's fast-growing 4G LTE networks. Let's see if Lenovo can exploit Motorola's first-rate product designs and tradition of durable, value-priced devices into a position within the top five smartphone manufacturers in the developing markets.