Russian authorities say they have busted a drone-enabled cigarette-smuggling operation in that country's westernmost Kaliningrad region. While not unprecedented, this manner of criminal enterprise can only be expected to become more common.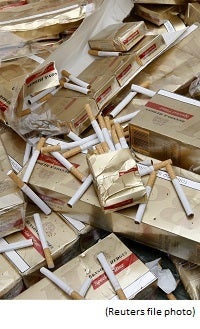 From an ITAR-TASS News Agency report:
A Russian-Lithuanian criminal group used the self-made drone aircraft for illegally smuggling cigarettes across the Lithuanian border into Russia. (A spokesman) said huge boxes with cigarettes had been found inside the drone when the border guards detained the aircraft on Lithuania's border with Russia. He did not rule out the drone could have been used for other purposes, including unlawful actions in Russia's territory.

It was established that the aircraft with a wing-spread of up to four meters had been made in Lithuania and had been radio-controlled from Earth. A GPS system had been built into it for navigation that made it possible for a drone operator to control the flight on a 3D card. The drone could take over 10 kilograms of cargo onboard. It rose for an altitude of up to four meters and dropped it in a designated area.
I've got to wonder about the risk/reward calculation of this alleged smuggling operation. How many successful missions would you have to fly to justify the loss of the drone? I'd do a calculation, but have no idea what data to enter into the equation.
Perhaps a reader will step up.
While this is not the first time a drone has been used in a smuggling operation, the practice is not yet commonplace. I asked a relative of mine, who has extensive experience working on the technological end of border security here in the U.S., whether he had encountered anything like this.
"No, never heard of drone smuggling," he says, "but cigarettes are the most smuggled commodity in the world, both in volume and value."
Guess that kind of answers the ROI question.