SharePoint's popularity as a collaboration tool has exploded. So the time was right to look at add-on products for expanding its usability, management and customization. I was surprised, but happy, to find that many add-on tools for SharePoint is free. So, as I was combing through the options of which to test for this list, I decided to concentrate solely on the free tools.
My search took me to Microsoft's SharePoint site, some blogs run by SharePoint MVP's, third-party developers and Microsoft's open source site Codeplex. (Not surprisingly, most of these free tools are hosted on Codeplex, by the way.) All told, I examined more than 120 SharePoint tools to bring you this list of 12 that represented a good blend of customization and easy management. In order to make the cut, all the tools on this list are easy to roll out. I used myself as the test case – as in, if it was easy for me, it would be easy for most folks. Although I have worked with SharePoint for a while, I am not a SharePoint developer. (So, no, you will not find any projects on these sites with Ron Barrett's name attached to them.) But thanks to these great projects and third-party tools, no one has to be a SharePoint developer to be able to deploy great looking sites that will make a SharePoint deployment rock. Let's start with the AJAX Control Toolkit.
---
Index 12 Free SharePoint add-ons
AJAX Control Toolkit | Silverlight Control Toolkit | Podcasting Kit | Community Kit for | | Learning Kit | Tool Basket | Smart Tools | Role-Based Templates for My Sites | Branding Tool | Imtech Mobile | Colligo Reader
---
< Introduction | Silverlight Control Toolkit >
The first tool is a joint project between Microsoft and the community involved in developing the AJAX toolkit. It provides client-side AJAX components for SharePoint sites. But that's not all. It also has examples for developing client-side components. These controls allow you to add AJAX-based tools to your SharePoint sites allowing you to customize and add some great features to your SharePoint sites. The project is also seen as a way to showcase AJAX controls built by community members. So if you have an idea for an AJAX component, join the community and share.
< AJAX Control Toolkit | Podcasting Kit >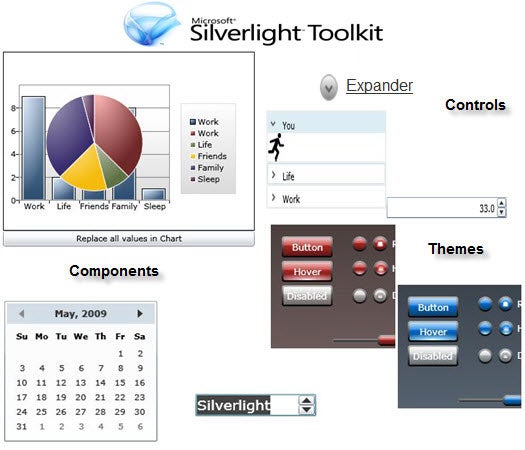 Silverlight is Microsoft's multimedia Web development platform. The Silverlight Control kit allows you to add Silverlight controls to your SharePoint sites. Currently there are 16 controls in the toolkit that add Silverlight components such as themes, calendars, charts and expanders for your SharePoint sites. The updates in this project are done in-between release cycles for Silverlight so you can grab the most up-to-date content and ramp up your SharePoint sites with some great Silverlight tools. The online toolkit samples include cut and paste code for the different components available, making this toolkit easy to use even for the non-SharePoint developer.
< Silverlight Control Toolkit | Community Kit >
Podcasting is a great way to get information. The small file size and ability to listen to the podcast anywhere at any time, makes it so. Recently companies have been stepping up efforts to podcast corporate communications. The Podcasting Kit for SharePoint is a fantastic addition to your SharePoint site. If you have been planning to add podcasting or if you have shied away because it seems too involved, give serious consideration to this free tool. The Podcasting Kit for SharePoint will setup the entire infrastructure needed to begin podcasting quickly. This project is still in beta but it contains everything you need to produce podcasts and set up RSS feeds. It also includes a rating system and can be integrated into your corporate messaging solution.
< Podcasting Kit | 30 Features >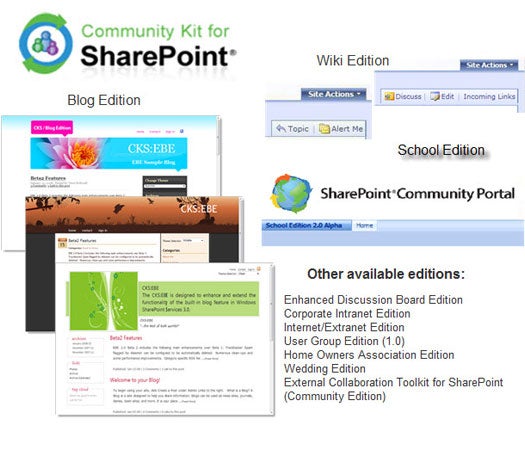 As of this writing, the Community Kit for SharePoint comes in 10 editions that make it easy to deploy a blog, Wiki, Intranet or Extranet to name a few. These projects include master pages and Web parts to make it simple to deploy great looking community sites with ease. I thought this project was great especially when you consider the big splash that social networking has made. The Community Kit for SharePoint can bring those social networking components (blogs, wiki, collaboration) into the corporate environment. Many of the sites have demo pages so you can view the editions in action for yourself. There eventually will be a school edition (currently in alpha stages of development), which makes a great portal site for an educational institution. Several of the editions are in alpha or beta stages now, but this is a project to keep an eye on.
< Community Kit | Learning Kit >
This project contains features for SharePoint developers, administrators and end users. It includes some useful tools such as debuggers, toolbar managers, placeholders, Silverlight configuration, as well as tools to manage form, users, themes, layouts and application configuration to name a few. Currently there are about 30 features, which can be downloaded separately or all together to enhance your SharePoint site.
< 30 Features | Tool Basket >
With corporate budgets stretched thin, lots of companies are looking for affordable ways to meet training needs. The SharePoint Learning Kit provides a site with infrastructure to add, manage and track training sessions in your organization. The toolkit is SCORM 2004 (Sharable Content Object Reference Model) compliant. The toolkit supports both instructor led and self-paced e-learning methodologies. It also allows you to assign, track and grade the training, making this a cool solution for many corporate training scenarios. Use this toolkit with content provided from training companies such as ClipTraining to create a viable training solution without the hefty price tag.
< Learning Kit | Smart Tools >
This project is appropriately called the SharePoint Tool Basket. It is a collection of tools for backend management of your SharePoint sites. It provides rich AJAX-enabled components without the need to install the extensions or the .Net framework. This tool set includes an application that allows developers to identify features installed in a farm and where they're active. It lets developers see where a content type is used across an entire site collection; manage the columns of a list, and offers Powershell scripts to help make development, deployment management of SharePoint sites easier.
< Tool Basket | Role-Based Templates for My Sites >
Smart Tools is a great name for this project since the features and components added here make your SharePoint sites just look, feel and act ...well smarter. With tools like copy/paste functionality, a "What's New" Web area and animated charts and enhanced actions, Smart Tools is a project that will take your SharePoint sites to the next level. This collection of tools will make developing, managing and using SharePoint more enjoyable and straightforward.
< Smart Tools | Branding Tool >
Role-Based Templates for SharePoint My Sites
Different business functions have differing needs. The IT department's SharePoint site should not be the same as the marketing department's or customer service's or accounting's. Role-based templates are a great way to address the various business roles and build sites that meet each one's needs. Microsoft currently offers eight templates in its "My Sites" feature. Each one comes preconfigured with components that can enhance productivity and help with the particular business function of that department. These role-based sites were designed after the customer model-based research done for Microsoft Dynamics. These are simple to implement and provide a vast array of functions specific and unique to those roles.
< Role-Based Templates for My Sites | Imtech Mobile >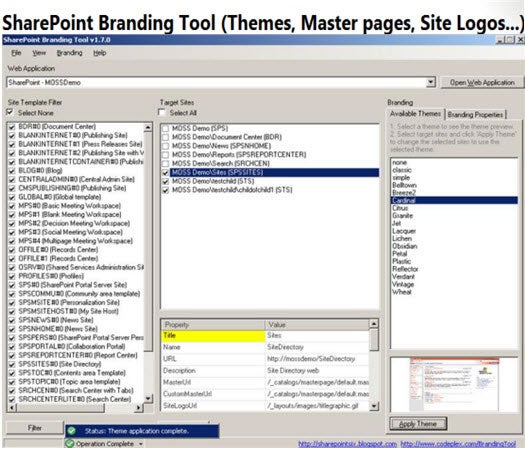 Branding is a big word to marketing people although as IT professionals we tend to not think about it much. But when you get a call from your boss to re-brand all five, 10, 20+ SharePoint sites, the SharePoint Branding Tool is a lifesaver. It provides a way to change the theme, logos master page, CSS and site image paths, etc. for multiple sites. The SharePoint Branding Tool makes the task of updating multiple SharePoint sites simpler and consistent. When you see that consistent look and feel across the many SharePoint sites, it is impressive.
< Branding Tool | Colligo Reader >
Imtech Mobile SharePoint is part of the ICT Velocity project. This project is currently in beta and provides a more user friendly GUI and functionality than current mobile solutions for SharePoint. The look and feel of Imtech's Mobile SharePoint is far superior to the mobile interface that is provided with SharePoint. Imtech's interface allows read-only access (in this release) to documents and allows you to navigate between sites. It can be added to any site making it a mobile friendly site. Plus, Mobile SharePoint can be used with any Web application in the farm and any mobile device that supports HTML rendering.
< Imtech Mobile | Return to the beginning >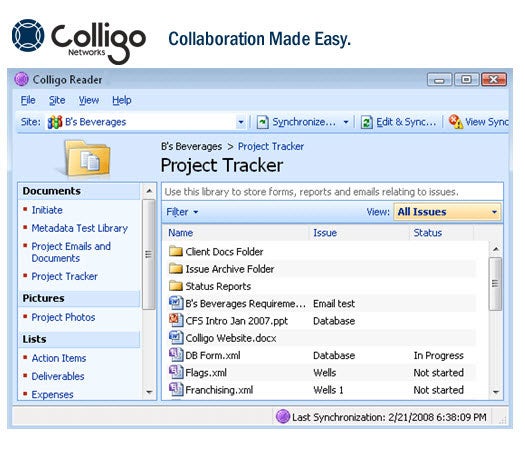 This free tool is available for individual download and is an incredible addition to your SharePoint environment. With the Colligo SharePoint Reader you can download documents, libraries or entire sites to your laptop and view them offline. The reader copies the structure to the local file system so that Metadata is intact leaving you the same look and feel as the online SharePoint site. You can initiate synchronization with the site from within the reader and even perform lookups and customize your views. Aside from accessing documents, you can also download, agendas, events, contacts links and tasks, allowing you to be connected to your SharePoint sites anywhere ... even when you're not online.
I'm sure these 12 tools (click here for the full list) will give you some great ideas for customizing, enhancing and building great SharePoint sites – because I tested all of them. Try some, and let me know your thoughts. Drop a comment and tell me your ideas on tools that make your SharePoint deployment absolutely rock.
*Note – I will be reviewing more of those other 120 projects from time to time in my blog under the title "Tools that Rock SharePoint", so stay please subscribe to my blog and stay tuned.
RELATED STORIES
Five great Windows open source tools
8 little-known technologies that instantly make Microsoft shops run smoother
9 wickedly useful Web sites for Windows administrators
12 cool cross-platform tools for Windows, Macs and Linux
A Better Windows World Tools Library