Plying the world's oceans may seem an odd start for someone who now oversees data center planning at one of the world's financial powerhouses, but that's precisely Jim Carney's professional pedigree.
Plying the world's oceans may seem an odd start for someone who now oversees data center planning at one of the world's financial powerhouses, but that's precisely Jim Carney's professional pedigree.
The deepening data center skills crisis
"Let's just say that I've got a pretty interesting and diverse background," says Carney, who is executive vice president of data center planning at Citigroup.
Carney spent the first five years of his career working as a marine engineer on commercial oceangoing ships, handling propulsion, power, water and other critical systems. He learned the ropes at the U.S. Merchant Marine Academy in Kings Point, N.Y.
Talk about baptism by fire. "When you're in the middle of the ocean, you have to be independent-minded because, clearly, you can't get vendor support," Carney says. "That makes you reliant on your skills and gives you the competence for handling anything."
From the city that works …
With a wedding approaching, Carney left marine engineering for dry land. This time, the native New Yorker didn't stray too far from home. He became an engineer for Con Edison, the Big Apple-based public utility.
Carney stayed at Con Edison for nine years, honing his electrical engineering skills and acquiring an inside knowledge of how utilities operate. During this period, Carney also gained his footing in finance, earning an MBA from Baruch College at night.
Next came the opportunity to focus on uptime and critical infrastructure — in TV land. For seven years, Carney was head of engineering for ABC's North American TV operations. He handled the electrical and property infrastructure for ABC TV in New York, Washington and, to some degree, California, he says.
"TV has a fungible product — commercials. If you lose a commercial, you lose revenue. So the concept of uptime and reliability, and how I had to deal with those from an engineering perspective, were really enforced there," Carney says.
… to the Citi that never sleeps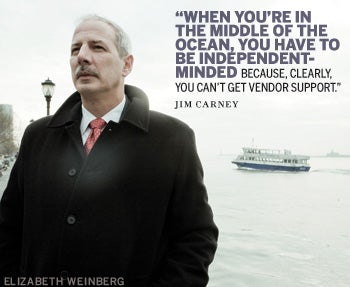 After seven years, Carney was ready for a new challenge — and found it at Citi. In 2000, he joined the company's property management operation, overseeing the facilities infrastructure and people aspects of a diverse building portfolio, including seven high-rises and four data centers, in the New York metro area. "I quickly learned that the most intense work focused on the data centers and the technology organization," he recalls.
When Citi lost a data center on Sept. 11, 2001, the risk associated with housing such facilities in international business hubs became all too apparent. "At the time," Carney says, "I could see probably 70% of our data center footprint in North America from the top of my building in Manhattan."
Citi leadership decided to revamp its data center strategy, and Carney was put in charge of both facilities and data center management. The network infrastructure, servers and other hardware within the data center now fell under his purview.
He's been with Citi's Technology Infrastructure Division ever since, over the years taking on additional oversight of data center operations as well as responsibility for the project management office; the risk and control teams, which deal with information security, auditing and external regulations; and the global strategy group that plans capacity for Citi data centers around the world.
Carney's role is one that any aspiring top-level data center executive would relish. He has direct oversight of eight strategic data centers in North America and indirect responsibility for another 14 sites globally for one of the world's top corporate behemoths — Citi ranks 12 among the 2009 Fortune 500 and 39 on the Global 500.
Even more impressive, four of those data centers are ground-up constructions, including a site in Georgetown, Texas, that received the Green Building Council's first Leadership in Energy and Environmental Design Gold certification for newly constructed data centers.
The current data center footprint results from a global strategic initiative through which Citi reduced the number of data centers worldwide from 52 to 14 strategic sites, with another 15 or so maintained for regulatory or business reasons, Carney says. Forging the global data center strategy, rooted in the events of Sept. 11 and launched five years ago, has been a high point, he says.
"People say they've built one data center. I've built four around the globe and have been involved in the care and feeding of that portfolio ever since. Overseeing this global strategy really has been the highlight of my career," he adds. After all, he says with pride, "These are the most technically advanced, state-of-the-art data centers anywhere around the globe."
Sometimes, Carney admits, he feels like he's sitting on top of a pyramid, and he's enjoying the view.
"I love my job," he says. "I love the data center world, and I can only envision that world getting bigger as we look to help other regions and other areas of the company."
Schultz is an IT writer in Chicago. You can reach her at bschultz5824@gmail.com.